Teaching math hasn't always been a struggle in our homeschool but meeting my children's individual needs, knowing how to give them extra help, and squeezing it all in has become more and more of a challenge over the years.
While I do love our math curriculum, I have needed help teaching math when one of my children just didn't grasp a concept as taught, needed extra practice, or needed reinforcement.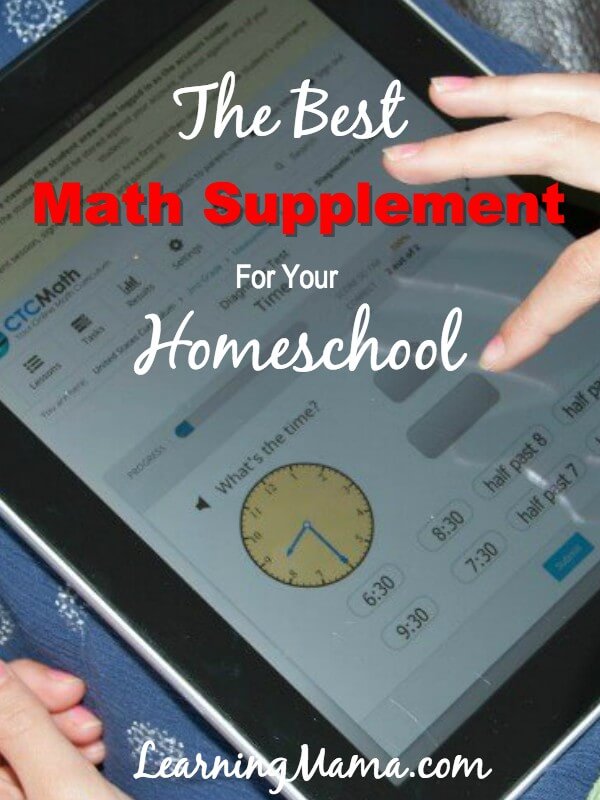 This post is sponsored by CTCMath. I received complimentary access to this product and was compensated for my time. As always, all opinions are my own.
But oh, the extra time it can take to find, organize, and implement supplemental math resources!
That's why I'm sharing with you today about CTCMath which has really helped me push the "easy button" on supplementing our homeschool math curriculum and getting my kids the extra help in math that they need. All without taking up any of my time!

CTCMath — The Ideal Math Supplement For Your Homeschool
CTCMath really is the ideal math supplement for homeschoolers — from K-12, they have you covered. Read on to find out why CTCMath is so great and just how it can help you and your kids get the math help you need!
No predetermined  sequence to the lessons
This is really important when you're looking at finding something to supplement your current curriculum — you don't want to be boxed into a program that requires you to use a different scope & sequence. CTCMath lets you chose lessons by grade or topic at will. Need help calculating volume? Just watch the volume lessons and do the practice questions.
Not grade specific
With CTCMath, you don't have to purchase access to only one grade level. You don't have to worry about finishing a level a year if your child is falling behind, nor is there anything to prevent your child from moving ahead if they are able to work at a faster pace. You have access to all levels! Another cool feature is that you can actually hide grade levels from your student — perfect for if you've got a child who is working "behind" grade level but who might be sensitive to that.
Works with other curricula
Because CTCMath isn't grade-specific and has no required sequence for the lessons to be completed, you can easily use it with your current homeschool math curriculum.
Sometimes our kids just need a certain tricky concept taught in a different way. Our CTCMath subscription has been like having our very own math tutor in my back pocket, ready to help when a particular chapter in math leaves them puzzled or frustrated.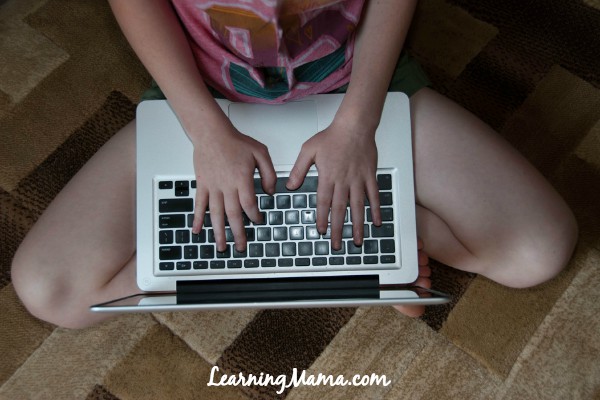 For example, I HATE the way our math curriculum teaches telling time. My oldest and I had such a hard time with it that when it came time to teach my next child, I totally skipped it and just hoped she would pick it up naturally in everyday life.
Unfortunately, that didn't exactly happen. But because we have a family subscription, I was able to set her up with the time measurement units in CTCMath, which worked wonderfully!
Child OR parent directed
What I love about using CTCMath to supplement our math curriculum is that my daughter can do it totally independently. One of my children needs me to direct pretty much all her school work with 1:1 attention, so I'm grateful to get anything off my plate!
All I had to do was set it up — in the Parent Area I simply clicked "add student", created usernames and passwords and set the pass level for each child (more on that below). My 10-year-old used it completely independently after that.
There is no extra work for me – no lesson prep, no teaching, no marking!
On the flip side, I could use CTCMath in a completely teacher directed sort of way by setting her up with assigned tasks. This would allow me to assign her particular lessons to complete on specific days, and I could choose to receive a report when the assigned lessons are due.
The parent can set the pass level
Every parent has a different standard for what they consider "good enough". I love that with CTCMath, I can choose to keep my student working on a lesson until they meet my criteria for a pass. I can also tailor the pass level individually for each of my students, reflecting their own abilities.
Great complement or assessment tool if you are using mastery-based curriculum
Because we use a mastery-based math curriculum, my children haven't necessarily been introduced to some concepts at the same age as their peers. While we aren't planning on joining the public school system, I've often wondered how my kids would measure up if they did.
Turns out, the concepts that have a delayed introduction in my curriculum are actually super easy when introduced with a short CTCMath lesson. I can rest assured that my kids are "on par" with their peers!
One of the biggest complaints about mastery-based math curriculum that I've heard is that kids can get bored with it. CTCMath is a nice break from our usual lessons and allows my daughter to explore new math topics that interest her.
Short lessons
If you are already using a full math curriculum, the last thing you want to do is overwhelm your child with long lessons.
CTCMath lessons are short – each video is only 4-9 minutes long. Then the student completes the questions with immediate feedback on correct and incorrect answers. The lessons are short, interactive, and keep the child's attention all without being burdensome to the child. I had zero complaints from my daughter when I added these lessons on to her usual daily work.
Affordable for homeschool families
Many online supplements and subscriptions require a separate subscription and account for each student, which can really add up in cost. CTCMath gives homeschool families a huge savings (60%) with their special rate for homeschoolers! Increase your savings even more by getting an additional 6 months of CTCMath  FREE when you sign up for a 12-month subscription — wow!
CTCMath 12-Month Family Membership Giveaway!
CTCMath is giving away a free, 12-month Family Membership! Good luck!