History is by far my oldest daughter's favourite subject. She's always been curious about cultures and religions. She's fascinated with everything from the ancient myths of the civilizations of old to modern governments and conflicts.
I have LOVED studying history with her and in many cases learning alongside her, discovering the history of our world for the first time myself. I love that she is asking questions, even if I don't know the answers yet myself.
I received Canadian History-Based Writing Lessons from IEW in exchange for a review. I was not required to write a positive review, and as always, all opinions are my own. Please see my disclosure policy for details.
Our history studies though have been light in Canadian content. Like many Canadian homeschoolers, we've been a little disappointed with the lack of Canadian content available in homeschooling curriculum.
That's why I was thrilled to learn that my friend Lisa Marie Fletcher, from The Canadian Homeschooler, was working with IEW to produce a new themed Structure & Style curriculum — this time, Canadian! Other themed units available from IEW include Ancient, Medieval, and U.S History-Based, Geography, Bible, Narnia, and more.
IEW's Canadian History-Based Writing Lessons sounded perfect for us — and it did not disappoint!
We are actually new to IEW's curriculum this year after having added them to our 2017/2018 curriculum lineup, and my oldest is currently working through their Student Writing Intensive A while I am doing their teacher training program, Teaching Writing: Structure & Style.
I am finding their programs so user-friendly, and I have really appreciated having the video support in teaching my child (with SWI-A) while I am learning their methods. My daughter is enjoying the lessons too!
While you can teach writing without a curriculum after completing their teacher training, IEW's themed lessons are a great alternative if you don't want to implement and prepare for it yourself — they are open & go!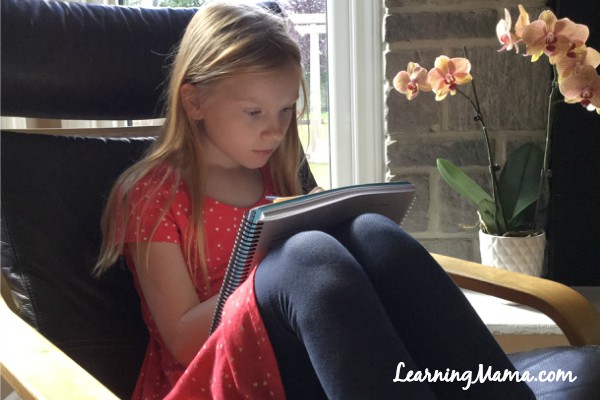 Here's a brief overview of IEW's Canadian History-Based Writing Lessons:
Canadian History-Based Writing Lessons is a middle school-aged program recommended for students grades 6-8 and the ideal next step for us after the SWI-A (which is for grades 3-5). It is designed for use by teachers/parents who have completed IEW's Teaching Writing: Structure & Style seminar, as it uses all 9 structural models of the IEW Syllabus.
In case you aren't already familiar with IEW's Structural Models, the nine units are:
Note Making and Outlines
Writing from Notes
Retelling Narrative Stories
Summarizing a Reference
Writing from Pictures
Summarizing Multiple References
Inventive Writing
Formal Essay Models
Formal Critique and Response to Literature
Canadian History-Based Writing Lessons go through the nine units using themes and source texts that explore exclusively Canadian content, from From First Nations all the way through to the second world war. Early explorers, inventors, and confederation are all covered.
Just a head's up, Canadian History-Based Writing Lessons is NOT a Canadian history program — it's a writing program — and will NOT replace your history studies. It's a great way to bring writing across the curriculum though and would be a wonderful complement to studying Canadian history.
What's included in the Canadian History-Based Writing Lessons Student Book?
Scope & sequence chart
Suggested schedule
Access to the downloadable Student Resource Packet
30 lessons covering two full semesters
Lesson pages with the instructions, source texts, and checklists required for each lesson.
Several useful appendixes with student samples, literature suggestions & response pages, instructions for creating a polished draft notebook and for formatting compositions in the Modified MLA Format
Vocabulary cards & quizzes
What's included in the Canadian History-Based Writing Lessons Teacher's Manual?
The Teacher's Manual contains the entire contents of the Student Book with the exception of the vocabulary cards. In addition, it also contains:
Instructions for the teacher
Answers to questions
Sample Key Word Outlines
Brainstorming ideas
Review games
Helps for motivating students
Instructions for customizing marking checklists & grading help
Can I use Canadian History-Based Writing Lessons if I haven't done IEW's teacher training?
I'm guessing that this is what most of you really want to know. Can you use these lessons if you have never done the Structure & Style teacher training or are new to IEW?
According to their website, Canadian History-Based Writing Lessons (and all their themed lessons I believe), are for use by teachers/parents who have completed their teacher training course.
These lessons are based on TWSS, and while the teacher's manual does provide teaching direction, it really isn't complete and assumes that the teacher is already familiar with and knows how to teach the nine units of the program. It also prompts the teacher to review their seminar workbook and DVD prior to beginning each new unit.
I know that some people WILL try to use the book without the training, and they may find it enjoyable and useful. I'm not sure that they will actually be mastering the style elements or getting the full potential this course offers if they do that though. I suspect that at the very least, the parent should watch the teacher overview videos from one of the Student Writing Intensives, or listen to the episodes of The Arts of Language Podcast in which the units are discussed.
I'm really excited to watch my daughter's skill & confidence in writing grow, and so pleased that we can use Canadian content while doing so!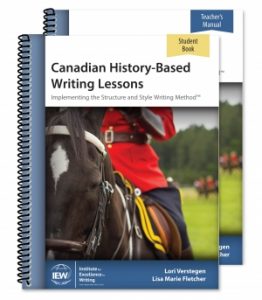 Canadian History-Based Writing Lessons Student Books & Teacher's Manuals are available for sale in Canada through Classical Education Books.
Check out The Canadian Homeschooler's Shop for more Canadian resources for your homeschool!