Today I'm excited to be telling you about an amazing digital product I have recently been given the opportunity to review. I'm really impressed with it, and I wish I had had it back when I first began this homeschool adventure with my children.
This post contains affiliate links. For more information, please read my disclosure policy.
NotebookingPages.com is a website that offers a wide selection of quality, pre-made notebooking pages in every subject area  and that can be used with students of all ages. They can be used to complement the curriculum of your choice, or even to build your own! From History, Geography and Science, to Latin, Copywork and Nature Study, NotebookingPages.com has something for everyone. I was blown away by the extent of the selection available. For the purposes of this review, I was given a Notebooking Pages Lifetime Membership which includes unlimited access to all of their thousands of notebooking pages.
Notebooking in our homeschool
We have been recording narrations in our homeschool from the beginning. Until my children are confident and competent writers, I act as scribe and write down their oral narrations. They illustrate their narrations as well. My oldest regularly flips through her History notebook and reviews her hard work from past years, and also enjoys showing it off to her grandparents.
Until this past year, we have only used lined paper in our notebooks. It was simple, inexpensive, and got the job done. But this year, I decided to jazz up our History notebooks by making my own notebooking pages. While new the notebooking pages were a hit (and look pretty good if I do say so myself!), it was a crazy lot of work that took me hours. Wouldn't it be great if there were some sort of resource out there, with the work already done for you?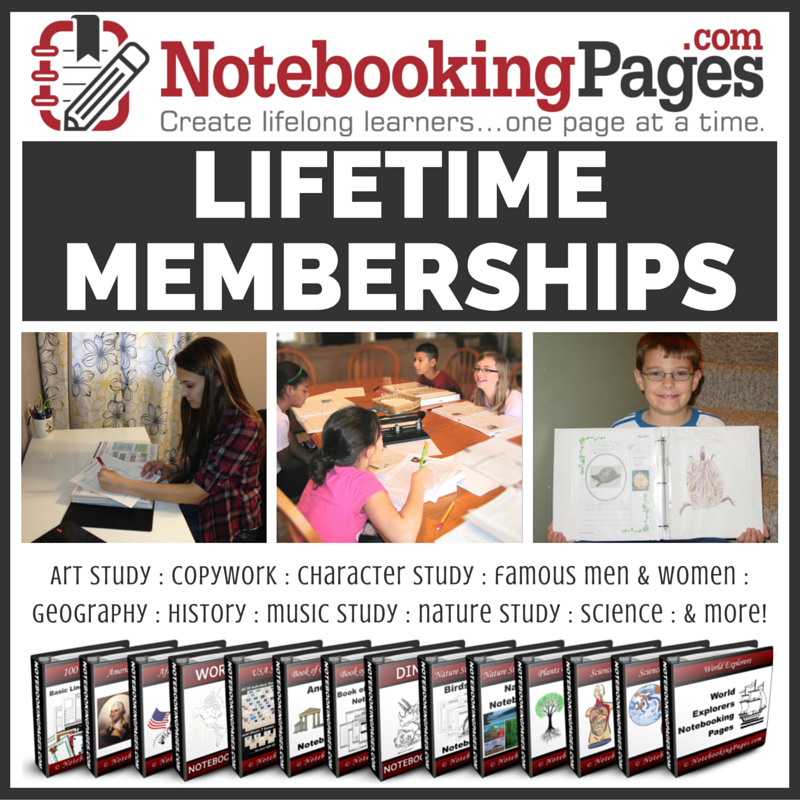 A better option
NotebookingPages.com's Lifetime Membership offers you access to all of their thousands of current and future notebooking resources, when you need them. And if they don't have exactly what you are looking for, they also have a variety of blank notebooking pages that you can print. Better yet, they are currently offering 1 year of free access to the Notebooking Publisher web-ap where you can customize your notebooking pages to your heart's content! The web-ap also enables you to make your own custom copywork!
How we used NotebookingPages.com
We finished up with our science curriculum a little early this year which gave us a little space in our schedule for trying something new. We were eager to spend the spring and summer doing nature studies, so I printed up some lovely nature notebook pages to use while we study trees, wildflowers, and birds.
We are especially fond of bird watching these days, so we really enjoyed creating our very own Backyard Birds notebooks using pages from the North American Birds notebooking pages. I printed out all of our favourite feathered friends: the robin, chickadee, Canadian goose, killdeer, snowy owl, cardinal, blue jay, mourning dove, belted kingfisher and more. A couple of times a week, we chose a bird we have sighted recently (not the snowy own, he was spotted this winter of course!) and read about it. Then we used the notebooking pages to record what we learned. My oldest uses the page with the map of North America and colours in the areas in which each particular bird can be found, while my youngest will either narrate a sentence or two to me to record for her, or copy the name of the bird herself. We then colour the birds to match the pictures and our observations. I experimented with several of the available layouts (there are 6 for each bird!) to find the one best suited to my individual students' needs —  my kindergartener doesn't need to write much so hers has a bigger picture to colour and less room for text, while her sister's includes the map to record each bird's range.
You can try it out for free!
All of the notebooking pages I mentioned above can be purchased separately or as part of larger bundles, but of course the Lifetime Membership gets you everything. The very best option in my opinion though, is that they also offer a FREE PRODUCT SAMPLER of over 600 pages! I'm always a fan of free, and try before you buy is definitely the way to go when shopping for anything!




This post is linked up at Trivium Tuesdays & the Hip Homeschool Hop