It's that time of year again when many homeschoolers are wrapping up their year. Finishing some subjects early (way to go you homeschooling superstars!) and trying to plough through where you may have fallen behind. It's a great time for evaluating the year; what worked and what didn't.  Many are attending homeschool conferences, vendor halls,  and planning for next year. While I have chosen to continue our learning year round, I too am in planning mode and looking longingly out the window.
I follow a relaxed classical homeschooling style, using The Well Trained Mind as my main guide for curriculum choices. I say "relaxed" because we are not as rigorous in our content, methods or schedules as many classical homeschoolers are.  We don't spend near the amount of time on our formal learning as the schedules in the WTM would suggest, but I do find it to be an invaluable resource in choosing programs and books to use for our learning. We use many of Peace Hill Press' curricula and follow a four year history and science cycle as outlined in the book.
All right, let's move on to our picks! Here's a review of what we have been working on, and our plans for what's up next for our up and coming third grader and kindergartener!

Big Sister  (7.5) completed Ordinary Parent's Guide to Teaching Reading at the start of first grade and we haven't been using any reading/phonics curriculum since. She has been reading aloud to me daily, reading to Little Sister and freely reading her own selections to her heart's content. No book reports or book logs required.
Little Sister (4.5) can identify all of her letters and their sounds but still has some difficulty with the lower case. We are in the early lessons of Ordinary Parent's Guide to Teaching Reading which is review so far. I anticipate this will take her through her kindergarten year and into first grade.
Big Sister is working through Writing With Ease Level 2, and we will continue on with Level 3 once that is completed. We totally left out penmanship this year, but we will resume Handwriting Without Tears this fall with Little Sister joining in.
For grammar, we use First Language Lessons, and we are on target to be starting Level 3 in the fall. I love this program; it is a gentle, relaxed introduction to grammar and includes memorization, narration, copywork and picture study.
We started All About Spelling this winter and it is going great! We are working on Level 2 and I've already purchased the next two levels as we seem to be really cruising through the lessons. You can read about our switch from Spelling Workout to AAS here.
I'll also be using Come Sit By Me with Little Sister, which is a Canadian, literature-based unit study program. If you are interested, you can read my review over at The Canadian Homeschooler. I'll also throw in some activities from Slow and Steady Get Me Ready for both Little Sister and Baby Sister.

For Math, we are using Math U See. Big Sister will be moving onto Gamma once Beta is complete, and Little Sister will likely start Primer in the fall. I love their manipulatives, the mastery-based approach and the teaching videos. It's a great program for parents like me who aren't confident in teaching math!

History is like dessert around here – much enjoyed, longed for daily but enjoyed only a few times a week! This winter we moved on to the second volume of Story of the World and are enjoying all things medieval. We are steeped in castles, Vikings, knights, kings and the feudal system. We will be ready for Early Modern by Christmas. We use the text and activity book and include as many of the supplemental literature and history suggestions as we can.

Art had been missing from our days until quite recently. We've done some lessons from Drawing With Children and that's pretty much it. I'd like to experiment a bit with watercolours and chalk pastels next. I'm also currently planning out my own artist and picture study to start in the fall using an art colouring book and Discovering Great Artists.  I've never put together my own curriculum before, so wish me luck!

I've been contemplating beginning latin instruction next year with Big Sister. I have no idea what to use though, and am finding all the reviews so confusing! I'm thinking that Song School Latin might be a good fit for a fun intro to latin with 8-year old and a tag along 5-year-old, what do you think?

For science, we are using Apologia's Exploring Creation with Astronomy along with the accompanying lapbook from A Journey Through Learning. We will finish up Astronomy in the fall sometime, and I'm not sure what to move on to next. We had previously used Elemental Science's Biology for the Grammar Stage and I may choose their chemistry program, Apologia's, or something else altogether. Any chemistry suggestions for grammar stage children would be appreciated!

We have been working through Our 24 Family Ways and are almost finished. I love it! We also read from The Jesus Storybook Bible, work on our memory verses, and sing our weekly hymn. When we are finished with Our 24 Family Ways, we will be moving on to Leading Little Ones to God. I'd also like to check out Grapevine Studies, which looks quite interesting and fun.
Are you changing up some of your curriculum choices for next year? I'd love to hear about it!
Are you looking for some help planning next year's curriculum? These free, printable worksheets from The Canadian Homeschooler should help! While you're over there getting your free worksheets, don't forget to check out what the other members of the Canadian Homeschool Blogging Team have to say about choosing curriculum!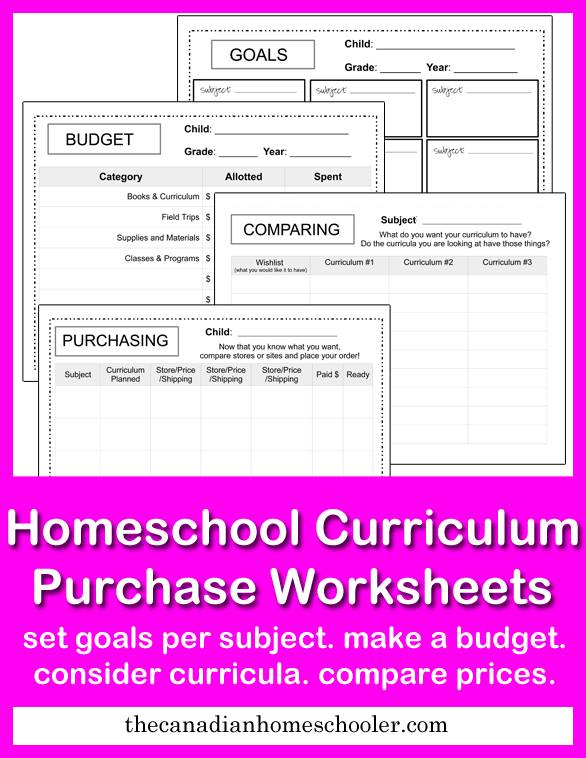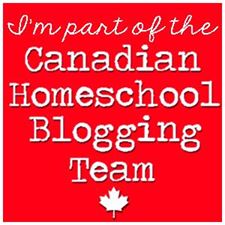 This post contains affiliate links.