My girls just love paper dolls! Whenever we are starting a new chapter of our history studies, they always ask if there are paper dolls to go along with it. We've been using Story of the World these last two years, and they have really enjoyed colouring, cutting, and playing with the likes of Joan of Arc and Isabella & Ferdinand. I've also spent a good deal of time online searching for paper dolls to complement our studies as well as their general interests. These are some of the best that I've found:
Practical Pages has the best paper dolls for use with historical periods that I have found. There are ancients, medieval and modern paper dolls as well as those from different countries/cultures within these periods (China, Rome, Viking, Egyptian, etc)
The Ginghams are a lovely set of paper dolls with a little bit of Little House on the Prairie style charm. They are full colour, and I printed them on card stock to make them last longer. We made them about 2 years ago but we still use the remaining ones as bookmarks.
Melissa Jacie  is our most recent find. She has 7 different designs of old fashioned dolls that are so very charming. There are little girls and ladies available, as well as coloured or black and white to colour in yourself.
Bible stories are also fun to act out with paper dolls – these Ruth, Naomi & Boaz paper dolls were quite popular at our house. Ruth's clothing is changeable from pauper to Jewish wife!
Another fun way to make paper dolls is to design your own! Sometimes my girls even draw their own to suit whatever game they want to play, but these design your own plain paper dolls are perfect for decorating your own clothing patterns and facial expressions.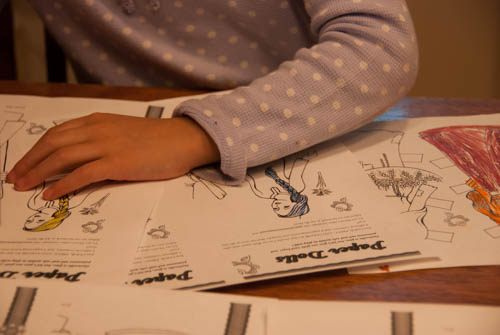 DaySpring.com is celebrating all of the amazing Write 31 Days readers who are supporting nearly 2,000 writers this October! To enter to win a $500 DaySpring shopping spree, just click on this link & follow the giveaway widget instructions. Good luck, and thanks for reading!