Teaching art can be pretty intimidating for a homeschool parent with no background in art! Add to that the cost of all your other curricula and supplies, all the other subjects you are trying to teach, the challenges of teaching a houseful of children of various ages, and all the extra curriculars you may be involved in, and it's no wonder that art is often left out in a homeschool. I know, and for all those reasons mentioned above, it was off my to-do list until almost a year ago when I started to explore some inexpensive, parent friendly resources for adding art to our homeschool day. Check out these totally free, online resources you can use in your homeschool to help you get into the habit of art, give your children a creative outlet, and make sure you are teaching the whole child (which is one of the reasons you homeschool, isn't it?).
Hodgepodge
Tricia Hodges is a homeschooling mama of many and has an amazing assortment of free art tutorials over on her site Hodgepodge, and also some that you can purchase on her other site Southern Hodgepodge. Most of her art lessons are chalk pastel, which is a very fun and affordable medium for beginning artists. You can use your own printer paper and a small box of chalk pastels for less than $10. My kids prefer her video tutorials over the step by step visuals, but both are excellent.
I'm having so much fun experimenting with chalk pastels with my children!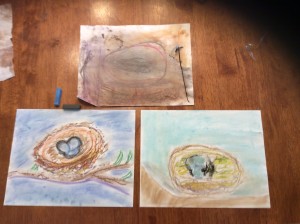 YouTube
I've been using YouTube for years for learning new things when I don't have a teacher! I've used it for sewing, cooking and crochet tutorials with great success. These days, there isn't much you can't learn to do using YouTube! I wouldn't recommend you let your children use it unsupervised, but with your guidance it can be a great tool for art in your homeschool. Our most recent use has been for learning watercolour technique – we used this video to learn how to create a colour wheel out of primary colours, it was great!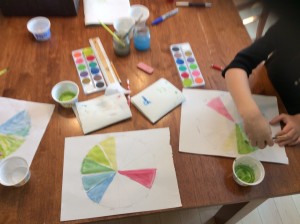 Art Hub For Kids
This is my children's favourite thing to do these days! Art Hub For Kids is a website with so many video tutorials on how to draw — it is a great follow up to the Drawing with Children lessons we did last year. At first glance, you will see a lot of commercial character drawings, but if you dig a little deeper you will find some gems such as this realistic robin and various other birds and animals and flowers that would be great in a nature journal. There are also trucks and other vehicles as well as some drawings that may be useful to complement your history notebooks (viking, sword, Roman Soldier).
The Art Curator for Kids
This is a great website with resources for  artist study, art history and art projects. Check out this series of  A Year of Art Appreciation  which contains 52 works (one for each week), organized by time period. You could even spread the works out over more time to match up with your history studies.
The Artful Parent
The Artful Parent is  the blog of Jean Van't Hull, a mother of two with a background in art history. She has authored two books: The Artful Parent and The Artful Year and is passionate about sharing ideas, information, and inspiration to encourage others to enjoy and share art with children. You will find so many ideas and resources there that you can use in your homeschool.
Don't be afraid to include art in your homeschool, even if you don't consider yourself to be artistic! Children love to create, and there are so many inexpensive and fun ways to add this component to your homeschool and family life. Our children (and us!) have been made in the image of God the Creator, and as such, have been made to create! We are all creative!