I'm wrapping up my five days of Canadian food with a delicious treat Vancouver Island! Nanaimo Bar's are a sweet, creamy chocolatey treat named for the city of Nanaimo, British Columbia.
The bottom layer of these beauties is a chocolate, almond, coconut, and graham combination.The centre is sweet and creamy; and the top is a firm, semi-sweet chocolate. I really can't decide which part is my favourite!
My girls are going to love these as a special treat for their afternoon tea parties and they freeze well so I can dole them out one at at time. They are very sweet and rich, I don't trust myself with a a pan of them within easy reach!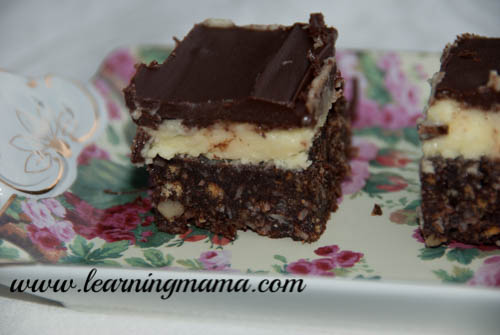 It's a great, fancy treat for a church event, potluck or for christmastime!
Nanaimo Bars
Bottom Layer:
½ cup  butter
¼ cup sugar
5 tbsp. cocoa
1 egg, beaten
1 ¼ cups graham wafer crumbs
½ c. finely chopped almonds
1 cup shredded coconut
Second Layer
½ cup butter
2 Tbsp. + 2 Tsp. cream
2 Tbsp. vanilla custard powder
2 cups icing sugar
Third Layer
8 squares semi-sweet chocolate (1 oz. each)
4 Tbsp. butter
Melt first 3 ingredients in top of double boiler. Add egg and stir to cook and thicken. Remove from heat and stir in crumbs, coconut, and nuts. Press firmly into an ungreased 8″ x 8″ pan.
Cream butter, cream, custard powder, and icing sugar together well.  Spread over bottom layer.
Melt chocolate and butter over low heat(the microwave works well here, stopping and stirring every 15-30 seconds) Cool. When cool but still runny, pour over second layer and chill in refrigerator.
Now excuse me while I go and freeze half of these for the kids! This wraps up my Five Days of Canadian Food! Can you think of any quintessentially Canadian foods that I missed?
Here they all are in case you missed them:
1. Maple Syrup (Maple Butter Nut Granola Recipe)
2. East Coast Green Tomato Chow
4. Beaver Tails 
5. Nanaimo Bars