You're on your way home from a busy day after running around taking your kids to music lessons, co-ops, athletics, or maybe a field trip. You haven't got a clue what to serve your crew for dinner. Do you swing by your favourite take out joint? Order a pizza? Make pancakes? What else is a busy homeschool mom to do?
This post contains affiliate links. Please see my disclosure policy for details.
Getting meals on the table has long been a HUGE struggle for this homeschool mama. That's why I was so excited to have the opportunity to try out the MyFreezEasy.com Freezer Meal Plan Membership from MyFreezEasy. And after the experience I've had in this past month,  I have to tell you that freezer cooking, and this resource in particular, has been a game changer for me!
Cooking once and having 10 meals prepped for your busiest days?! Yes please!
I've long been a fan of freezer cooking, and I do try to double up on my cooking to keep my freezer stocked. But I had grown tired of the same fare: spaghetti sauce, chilli, shepherd's pie, and lasagna. I was anxious to try out new recipes!
What is MyFreezEasy?
MyFreezEasy is a meal plan website that provides monthly meal plans complete with recipes, shopping lists, assembly instructions, video tutorials, and even printable labels to make freezer cooking a breeze.
Each month, members are provided with 8 meal plans (traditional, gluten free, slow cooker, all chicken, all ground beef, all pork chop, clean eating, and  20 meals). All of the meal plans are designed to have you spend 1 hour in the kitchen and come out with 10 pre-made meals, except the last one which will add 20 meals to your freezer.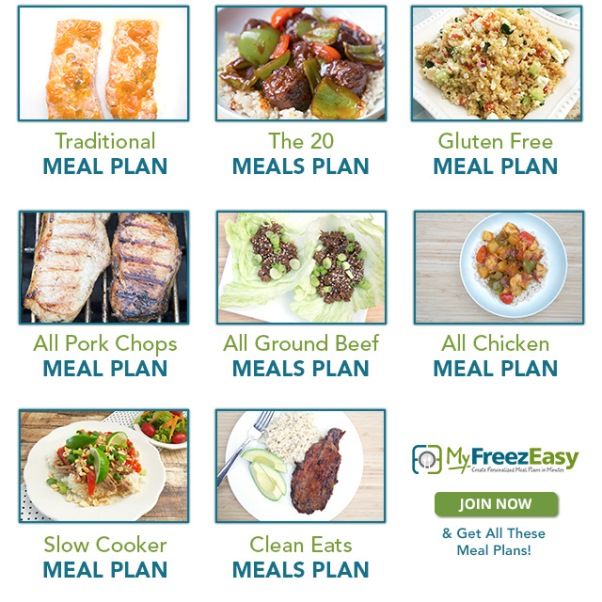 My first session
September was a really busy month in our household with the return to many of our outside activities (piano lessons, co-op, field trips, etc) but also with my parents temporarily moving in with us. It also involved a lot of painting and cleaning to get their new home move-in ready, and then another moving day when they moved out. It was a great opportunity to both make use of my mom's free labour, and have 10 prepared meals in the freezer for the busy month ahead.
As soon as I got my membership, I quickly checked out the system. The September meal plans had just been released, and I chose to use the Traditional Meal Plan for my first time through. Like all the other meal plans, the Traditional Meal Plan has printable grocery lists, detailed assembly instructions, and printable freezer labels, but it also has a full, hour long video of Erin (the owner of MyFreezEasy) actually preparing the meals and demonstrating her system. I'm not exactly a whiz in the kitchen, so after previewing parts of the video the night before, I actually set up my laptop on the kitchen counter and cooked along with her when I was ready to begin.
Mom & I hit the grocery store together, armed with the MyFreezEasy grocery list. The only difficulties we had were with the way some of the ingredients are listed (using imperial measurements rather than metric, and American standard sizes rather than Canadian), and in actually finding some of the ingredients in our local store. I've never purchased canned green chilies, and they were no where on my local grocery store's shelves; I've also never seen bags of frozen peppers and onions. After making a few adjustments, we were ready to go!
That evening, after all the kids were tucked into bed, we set up for an evening of cooking. We lined up foil & pyrex pans, and labeled Ziplock bags. We chopped the fresh peppers & onions to replace the frozen. Then we watched the assembly video and cooked, stirred, and chopped along with Erin. It didn't take us one hour (it took closer to two!) but we went to bed that night with 10 meals from the five recipes!
The September Traditional Meal Plan included:
Lazy Lasagna – this turned out excellent, and I don't think I'll ever make a regualr lasagna again!
Chicken Fajita Bake – this one was good too, we love fajitas around here.
Slow Cooker Spicy Mango Chicken Tacos — this one wasn't too popular with the kids.
Slow Cooker Teriyaki Pork Tenderloin — we haven't tried this one yet.
Slow Cooker Spanish Rice — we haven't tried this one yet either.
And now for the best part …
After my initial experience using MyFreezEasy, I decided to dive a little deeper into the membership site and try out the features of the Premium Membership I was given. This is when I really got hooked. With the Premium Membership, you can build your own meal plans! Your kids don't like peppers? Your husband is allergic to eggs? Maybe you hate slow cooker meals? No problem! Simply browse their recipe library and drag and drop the recipes you are interested in into the recipe box and you can create your own custom meals, just right for your own family.
You can search or browse the recipes by type of protein, cooking method, or dietary preference, so this resource is great for families working with gluten-free, dairy-free, or whole foods/Paleo diets. Another great feature is that you can file your favourite recipes into a favourites folder, so after we actually eat the meals, I can remember the ones my family loved, and which ones went over like a lead balloon. Because I don't know about you, but my kids have a lot of opinions about what I serve for dinner, and they aren't too shy (or very polite at times) about telling me about how they enjoyed dinner. Or didn't.
I try to feed my family a primarily whole food diet, so for my second time using MyFreezEasy I made my selections mostly from those options. I made:
Pineapple Chicken Curry — this one rivalled the one I get from our favourite Cambodian Thai restaurant! Loved it!
Slow Cooker Mango Chicken — this one is good.
Cheesesteak Sloppy Joes — Sloppy Joes are new to our family and my oldest daughter loved it and has requested that we have it weekly. I don't know if that will happen, but I'll definitely be making it again.
Slow Cooker Curried Chickpeas & Vegetables — this one was a no go for everyone.
Slow Cooker Sweet Potato & Chicken Curry — the adults all liked this one, but the kids not so much.
This time, my kitchen time was much closer to the hour promised! I made a total of 20 freezer meals in the month of September, and I've still got some left over for October!
Who could benefit from MyFreezEasy?
While I think most, if not all busy families could benefit from the great resources offered by MyFreezEasy, I think it would be a great fit for:
homeschoolers whose activities take them away from home often
those who have a hard time meal planning
a group of moms who would like to get together and have a big freezer meal prep day/night together
mamas with babies & toddlers who are prone to having meltdowns late in the day (during typical dinner prep time)
those who would like to have a freezer well stocked with easy dinner options for when life gets busy, crisis strikes, or to bless new mamas, the sick, or bereaved

I'm thoroughly impressed with the MyFreezEasy system, and will be continuing to explore all the wonderful resources they have to offer — I'm so thankful for how it is making my life easier!