Foreign language learning is definitely challenging for many homeschoolers, I know it sure has been for me. And as a Canadian living in a bilingual environment, I have always wanted to be able to teach my children to speak French. But without a formal course of study, our efforts have not been very productive — so I was happy to have recently had the opportunity to try out Armfield Academic Press' Getting Started with French program.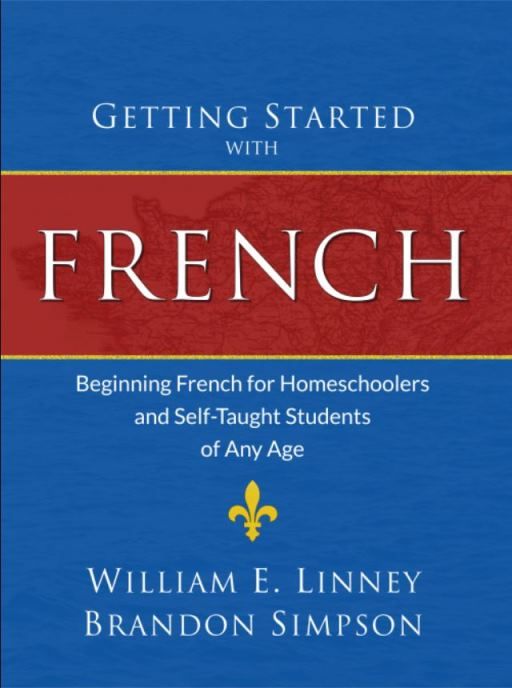 What is Getting Started with French?
Getting Started with French is a simple, self-paced program for learning French. It was designed for use by homeschoolers and self-learners alike, without need for additional materials or expenses. Supplemental material in the form of downloadable audio files (including pronunciation guide and lesson by lesson commentary) can be obtained free on the Getting Started with French website.
The format is open & go, with no pre-class prep. required. It contains 172 lessons, complete with written/oral exercises (depending on the age of the student), tests/quizzes, pronunciation help and grammatical information. It can be completed in less than 30 minutes a day.
We are not complete beginners with French at our house — I am bilingual (although English is my first language I did learn to read & write in French before I learned to do so in English), and my children have had some French instruction (at our homeschool co-op and with a French teacher) in the past. Their previous experience had been quite haphazard though, following seasonal themes, colours, and the like. GSWF is a much more thorough method than what we have experienced, and I decided to start at the very beginning. The lessons do build on each other, so it is essential to follow the lessons in order.
We started off our first week with GSWF by adding it to our Morning Time. Using the book and a white board, I taught 1-2 lessons each day to my fourth and first graders. My oldest completed the written lessons, and I set my first grader up with a composition book to copy the French vocabulary.
My first grader however, put up quite a bit of a fuss and resistance to the French lessons, so I decided to let her give it a pass for the time being. I really prefer to keep learning and lessons short and positive (which is quite the challenge with her!) in the early years, and French isn't the hill I'm willing to die on!
My oldest however, has continued on with her lessons and is able to complete them independently with minimal help from mama.
What I like about Getting Started with French:
It's non-consumable and re-usable between children
As a homeschooler with multiple children, this is something I'm always looking for in our resources.
It's affordable
There is only one book required for this program, and it is modestly priced at around $20. You can save even more by purchasing it in e-book format.
It's systematic 
Our previous efforts have been quite sporadic and have left large gaps in our learning. GSWF is slow going, but thorough.
It's open & go
I like that it takes zero preparation from me. Although I can speak French well enough myself, I have had no success at all in creating lesson plans and teaching it to my children.
Getting Started with French is a great option for homeschoolers who have no previous French experience. Using the audio downloads, you can teach your children French at home even if you have had no previous French language exposure.
I think the program will work best for older children who can complete it independently though, as it would likely be too dry for non-readers.
I also feel that students need to already have basic grammar knowledge in English before beginning this program as it does reference such concepts as articles, nouns, verbs, and pronouns. The lessons went right over my first grader's head.
While it may be a little too easy or move too slowly for secondary students and adult learners, it may be a good choice for those who are intimidated by a more intense course of study. It would be a great way to get your feet wet with a new language without investing a ton of time and money on a complicated or expensive program.
Overall, I think that Getting Started with French is a great option for homeschooling families who wish to begin French instruction at home, and would be especially useful in families where the teacher does not already speak French, or with independent children who would like to learn on their own.
I would also definitely recommend checking out Armfield Academic Press' other language learning programs, Getting Started with Latin, Getting Started with Spanish, and their soon to be released Getting Started with Russian.