I was super excited to have the opportunity to review a Math-U-See product — I have been using Math-U-See from the beginning in our homeschool and am now into the Gamma level with my 8 year old while her little sister (5) is working in Primer. It is a solid, easy to use, hands on, mastery based math curriculum that I haven't regretted choosing it for an instant.
One of the newest things out from Demme Learning's Math-U-See, is their Digital Packs. Digital Pack are a digital alternative to their traditional teacher's manual and DVD set and provide 12 months of access to streaming of the instructional videos and Instructors Manual, level and test solution pdfs of your chosen level(s). Also included is their awesome Skip Counting and Addition Songs mp3 (these are a GREAT memory aid!), and their Digital Manipulatives. The Digital Manipulatives are an online tool version of their Manipulatives App.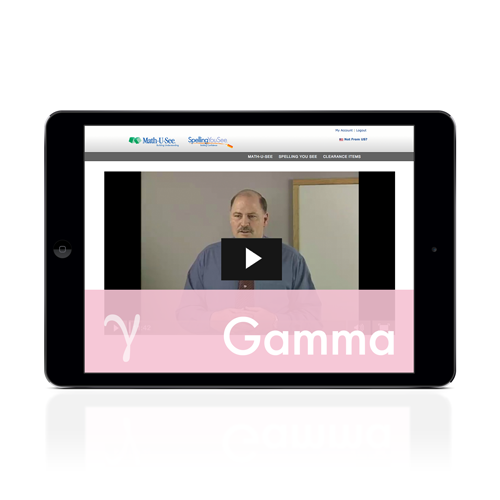 We accessed the materials using both our Macbook and our iPad Mini fairly easily, the only delay being that you have to login to the site each time to gain access. To make things a little smoother for us for our day to day use, I left the pdf page we were currently using open in a tab of my browser. This made it much easier to use and then we only had to login for our weekly video lessons.
While we did have some fun playing around with the Digital Manipulatives, I certainly wouldn't recommend them as a complete replacement for the physical set. They could certainly be handy for traveling and homeschooling on the go though! My kids are pretty inexperienced when it comes to technology, and had a difficult time figuring out how to "pick up" the blocks, and move/remove them. We are currently working on the lower multiplication tables, which isn't requiring much manipulative use at this time anyway.
Having the video streaming was a total hit with my daughter, and she really appreciated being able to watch her video at the dining table (or anywhere else), rather than in the family room with her sisters distracting her. I am also able to use the pdf to correct her work, and I'm really happy to have a bit more room on my teacher's manual shelf with one less book taking up space!
Because I will be putting three children through each Math-U-See level, digital packs don't make financial sense for me personally — I will still continue to buy their standard Instruction Packs for each level. They may be slightly more expensive than the digital version, but they are a one time cost that will be spread out over all of my children whereas the Digital Packs need to be re-purchased each year and for each level. They would definitely present a cost savings to those who are homeschooling an only child, or for families where the children are using separate math curriculums.
If you are interested in seeing how the Digital Packs work with various ages, levels, and individual homeschooling families, be sure to click the banner below to read the reviews of other Review Crew Members.