Sally Clarkson's newest book, Help, I'm Drowning, shares the secret to thriving, not merely surviving the storms of life.
Have you ever wished, especially during the storms of life, that you had a godly mentor to walk beside you and show you the way? Someone who's been where you are, who has come through the same struggles, and can offer encouragement and perspective?
This post contains affiliate links. This book was received from the publisher in exchange for an honest review. Please see my disclosure policy for details.
Sally Clarkson has made it her life's work to be that Titus 2 woman, to come alongside and teach younger women, to disciple them in their faith and in their roles as wives and mothers. For over two decades, Sally has been mentoring women through her books, blog, and podcast. She continues that mission in her latest book, Help, I'm Drowning: Weathering the Storms of Life with Grace and Hope.
Help, I'm Drowning: Weathering the Storms of Life with GRACE and HOPE
Drawing from her own experiences of struggle and testing throughout her life, Sally provides the encouragement we all need to walk with grace through our darkest days — by sharing with her readers how God has been faithful to walk with her through hers.
"Every day you choose to walk with Him in faith, you will be one day closer to finding true rest and peace in life as it comes".

~ SALLY CLARKSON
Sally has so much encouragement and perspective to share from her decades of walking alongside her Lord and Saviour! I truly enjoyed reading about her struggles through the season of her life — many of which were similar to those most of us face but some unique to her own life situations. Sometimes we can feel so alone in our struggles and we need to be reminded of the universality of our struggles in this fallen world — and the hope that we have at our disposal to enable us to overcome!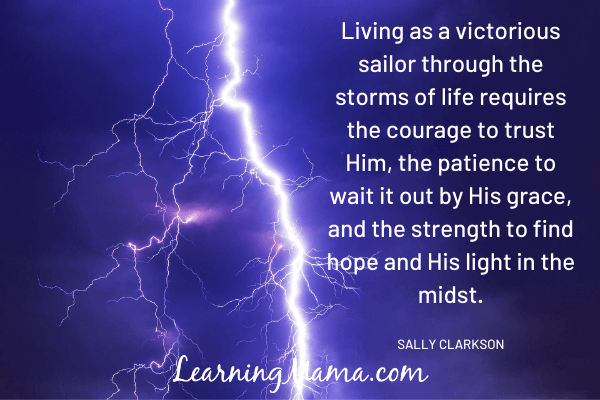 So many of us are lacking (especially these days!) the close, personal relationships in which genuine friendship, and especially mentorship can occur. Although real, flesh-and-blood relationships and discipleship can't be beaten, Sally's ministries (including here in Help, I'm Drowning!) sure have filled some of that void in my own life.
For help learning to thrive, not merely survive, the storms of life, I recommend checking out Sally Clarkson's Help, I'm Drowning; Weathering the Storms of Life with GRACE and HOPE.