Nothing brings the role of home as a haven of comfort and safety to the forefront like a pandemic. And apparently, people across the globe started baking up a storm to try to build that warm and fuzzy feeling of home through a loaf of bread until the stores ran out of yeast. Then came the 2020 sourdough movement….
Building a home and family culture of belonging, welcome, rest, and joy has been on my heart from the beginning. A home worth being homesick for, and a home that brings joy to return to. And while I had sufficient inspiration for more abstract aspects of building a home (traditions, relationships) I could always use more help in the nuts & bolts and artistic skills of home decorating.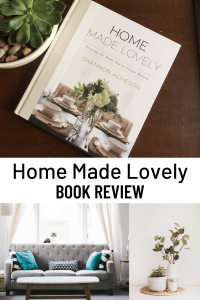 This post contains affiliate links. This book was received from the publisher in exchange for an honest review. Please see my disclosure policy for details.
I recently enjoyed the practical help and home decorating inspiration provided by the book, Home Made Lovely, by Shannon Acheson. 
Home Made Lovely – a Christian Home Decor Resource
I recently discovered that there's a whole genre of home decorating books from a Christian perspective. I mean, it makes sense, doesn't it? A Christian home has a completely different purpose and focus than a secular one. 
Looking at home decorating through a Christian lens, the first thing I noticed about Home Made Lovely that was in stark contrast to other home decor books and magazines was a decided lack of spurring on on envy, encouragement to decorate within your means, and an emphasis on contentment. 
Home Made Lovely covers the basics of home design and touches on scale, colour theory, and the basic decorating styles. If you've ever been at a loss to determine the particular architectural and decor styles of various homes, this book can help you put a label on it!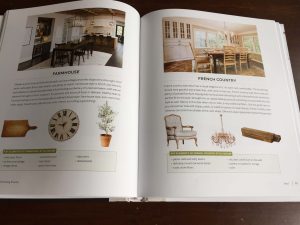 It also has loads of budget decor hacks and ideas and a whole chapter on hospitality which is great (post-pandemic of course!)
One of the early chapters in the book talked about some practices and ideas related to the author's faith that even I, as a Christian, thought weird and at times a little disturbing. For example, the author suggests that previous owners or activities in your home can leave negative spiritual baggage in your home that will affect your family if you don't rebuke the devil, pray over (under?) every doorway and window, and anoint these points with oil. While I don't object to dedicating your home and all it's activities to the Lord, this chapter seemed a little silly and possibly even dangerous thinking. Bible verses on your walls? Yes. Living in fear that your house belongs to the evil one? Nope.
If you're interested in home decor, I definitely recommend checking out what specifically Christian home decor books have to offer. Let's focus our homemaking and home decorating on serving our people well, cultivating a place of rest and beauty for our families and guests, and considering how even our physical home can bring glory to God!