Here's a "normal" day in the life of this homeschooling mama of three girls aged 9 months-7years. I've been calling my  homeschooling style "Classically Eclectic Slacker" or something like that.
It's 6:40 am and Baby Girl wakes up. She was up at 2:00 am and 4:30 am, but now she is up for the day. Daddy goes to get her and leaves this tired mama to get a few more winks. He drops her off in bed with me at 7:00 am  as usual so he can get his shower and get ready for work. I nurse the baby in bed and pretend I don't have to get up soon. It's not long before I'm having my turn in the shower. I'm interrupted in the shower by my oldest daughter who has been reading an animal encyclopedia and feels she just has to tell me the funniest thing! Something about a fish that changes from female to male after migrating upstream to the ocean or something. I fein interest while trying to wake myself up. I then get dressed and check to see if the girls have started their morning routine. Their unmade beds and laundry on the floor indicate that as usual, the morning may not go as smoothly as mama would like.
8:00 am and I am making breakfast. Daddy has left for work. Big Sister (7) and Little Sister (4) have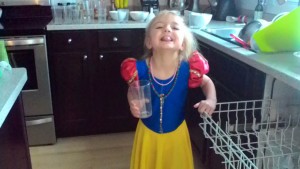 emptied the dishwasher. Actually, Big Sister and Snow White did, but I send Snow White back upstairs to change before breakfast.  Big Sister is now cleaning the bathroom sinks and counters. Little Sister has requested blueberries in the Cream of Wheat this morning, but as soon as it is cooked she's crying that she doesn't want it/doesn't like it.  Big sister is annoyed because she wanted mangoes in it. It's shaping up to be a fabulous day! Big sister has her nose in a book at the breakfast table as usual, this
time it is about volcanos.  We review our memory verses using the Memory Box System from Simply Charlotte Mason. We try to do this at each meal, and it is a great system and is working even for the four year old. Table is cleared, teeth are brushed and we are ready to start our day!
9:00 am Circle Time! We are making good time today, and have time to have a little circle time together before starting our morning learning. If we are running late and Baby Sister needs her nap already, we have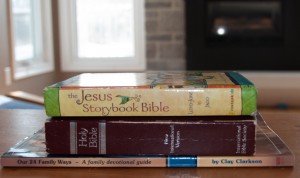 to skip it. Baby sister typically takes only 30 minute naps so I need to do any one on one teaching while she is asleep in case it's our only opportunity for the day. So we do some stretches, action songs, and try to get the wiggles out before settling down for our Bible Time. I read from The Jesus Storybook Bible, about Zaccheus, and then play the song "Zaccheus Was a Wee Little Man" for fun. Then we move on to Our 24 Family Ways which we have been working through off and on for about a year. This week we are working on "We take initiative to do all our own work without being told". We discussed AGAIN making beds, getting dressed, clearing dishes etc without being reminded by mama. Hopefully it will stick one of these days! We finish up by praying together.
9:30 am Table Time. It's time for Baby Girl to take a nap, so I set the girls up with quiet and independent activities. Big Sister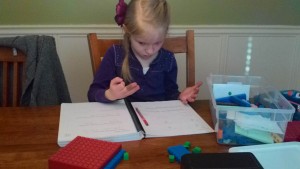 does Math while little sister works on puzzles. Baby Girl is asleep by 9:45 am and I have just enough time to do a quick writing lesson (Writing With Ease Level 2) and get our white board set up for spelling (All About Spelling Level 1) when Baby Girl wakes up. Total nap time less than 30 minutes!
She does make our days challenging! We continue on with spelling while she crawls around.
10:45 am I start lunch prep (quiche) with the help of Little Sister while Big Sister works on Science (Apologia's Exploring Creation with Astronomy). Then she runs off to play Barbies with her sister and I change a diaper and sit down to nurse.

12:00 I realize that I forgot to take the chicken out to thaw for supper. Oups. I start trying to think of an alternate plan. Big Sister is reading and Little Sister is listening to Robert Munsch audiobooks. I sneak some leftovers for my own lunch so I don't have to eat while the baby yells at me from her highchair. One bite for baby, one bite for mama is not fast enough for her.
12:20 Lunch My girls ate 3/4 of a Quiche all by themselves. It's their absolute favorite lunch.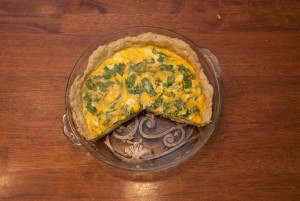 1:30 Quiet Time! I managed to get the kitchen cleaned up before bringing the baby up for her nap so I'll
have this time to myself 🙂  The big girls are listening to stories on tablets while playing quietly. Big Sister is listening to a Jim Weiss audiobook in my room and Little Sister is listening to a Paws & Tales podcast in hers.  I've got my cup of tea, laptop, a book and a chocolate bar. All is quiet and mama is happy!  Baby Sister wakes up 40 min into her nap, but she is still tired and nurses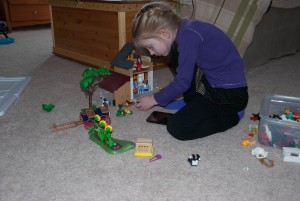 and then allows me to put her back to bed for a change. The big girls don't want to leave their playing and stories until around 3:00 pm and by then I have their valentine card crafts set up on the table for them to assemble. Big Sister spends a good hour arranging everything just so and glueing but Little Sister gets tired of her project after about 5 minutes and just starts cutting scrap papers to shreds for fun.
3:25 pm I've got a new plan for supper.  We'll do our usual Friday night pizza and have the chicken tomorrow instead. I start the dough in the Kitchenaid. Supper must be eaten early tonight as Big Sister has piano lessons with Daddy at 5:40 and it's a good 20 minute drive away. By 4:00 pm I'm nursing a sucky baby and trying to grate cheese/roll dough/assemble the pizza.
5:00 pm Supper is started without Daddy who hasn't arrived from work yet. By 5:20 pm he's come, eaten, and gone with Big Sister.  Little Sister and I clear the table, and start baking Daddy's birthday cake.
6:30 It's bath for Baby Sister  and then I set Little Sister up with a snack and Leap Frog's Letter Factory. She watches and eats while I nurse the baby and put her to bed.  Big Sister and Daddy return home from piano, and then it's pj's, teeth, stories and bed for the big girls too. We read  some Beatrix Potter, and everyone is tucked in by 8:10 pm.
And then I spend most of the evening on the couch as usual.  I finish assembling Little Sister's Valentines and then pack up the cards for our Valentine's party with our little homeschool group tomorrow.  I'm usually in bed between 9:30 and 10:30 but Daddy had a particularly unpleasant day at work so we chat and he vents. We end up staying up until almost midnight. Yawn.
So that's a somewhat typical day around here. We don't make cards and cakes everyday. Sometimes we have tea parties, meet with our homeschool club,  have a co-op French class or a library visit. Once in a while we take a field trip with friends. But this is how we roll 75% of our time when we have days entirely at home. And I like it!