Whether it's parents & children cuddled up with a book at bedtime, a story from grandma about her growing up years, or a well-made movie or stage production, stories are powerful. And sharing stories with children is an excellent way to help them understand, appreciate, and even immerse themselves in historical settings.
Because we are such fans of family movie night AND history at our house, I've been on the lookout for great family-friendly movies that feature stories set in our current period of historical study – and I've found some truly great modern history movies for kids!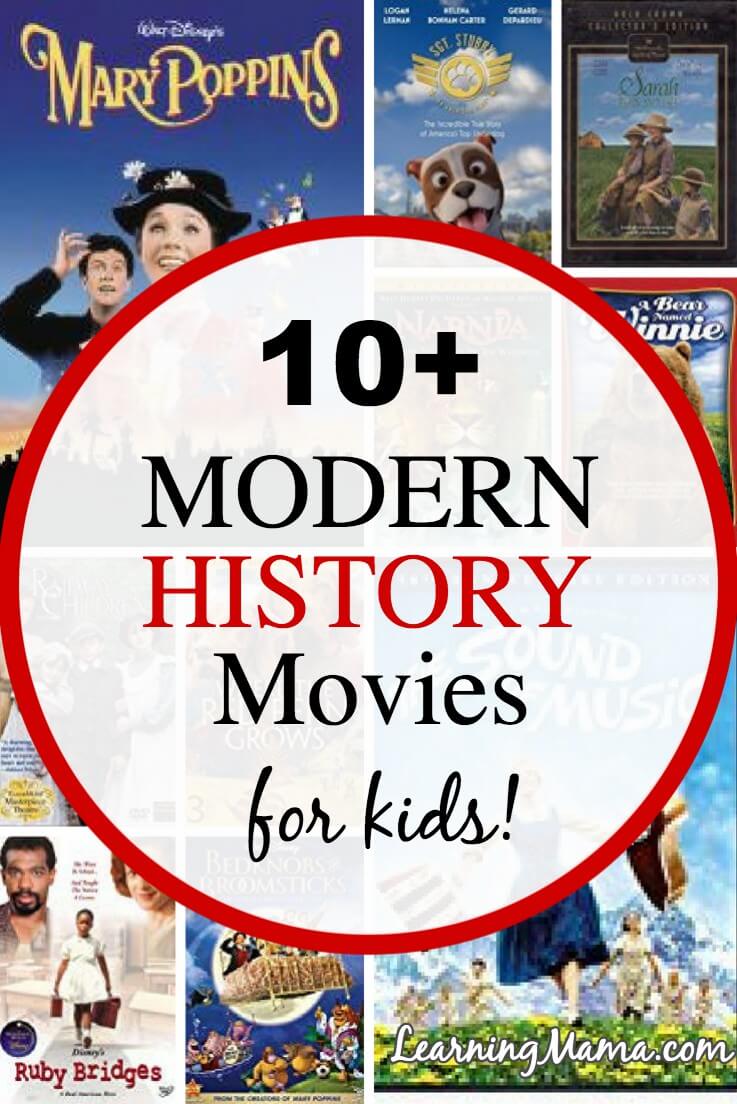 This post contains affiliate links. See my disclosure policy for details.
Modern History Movies for Kids
Some of these movies are based on true stories and historical events, others are movie adaptations of literature set or written to reflect a particular period in modern history. What these movies all have in common, however, is that they are truly family friendly! I have personally viewed each of them, and I've highlighted any concerns I feel parents may have related to the suitability of the content. I've also included links to my two go-to movie review sites for checking appropriateness for my family — Plugged In and Common Sense Media.
Sgt. Stubby: An American Hero (2018)
This is a cute, animated movie that we saw in theatre this year. Based on the true story of a stray dog turned WWI hero, Sgt. Stubby: An American Hero is a gentle movie about the war that is appropriate for even the youngest viewers.
Common Sense Media Review
Plugged In Review

I'm usually a diehard in the "the book is always better than the movie" camp, but Mary Poppins is definitely an exception — the movie is so much better! Set in 1919 Britain, Mary Poppins is the magical nanny of the Banks children who takes them on fantastical outings to their delight (and Mr Banks' disapproval).
I love the Sarah Plain & Tall books for newly independent readers just starting out on "chapter books".This sweet story is set in Kansas in the late 19th century and tells of Anna and her widower father who advertises in the paper for a new wife after the death of Anna and her brother's own mother. They await the arrival of Sarah, a young woman from Maine, who responds to his advertisement. What will she be like? Will she like their prairie home? Will she stay?
We haven't seen them yet, but if you enjoy Sarah Plain & Tall, there are two more movies in the series:

This movie, based on Lewis' book, is set in England during the second world war. It begins when the Pevensie children are evacuated from London to the countryside as war breaks out in Europe. There they discover a magical portal to another world through the door of an old wardrobe.
There are a total of four movies in the Chronicles of Narnia series; we've seen (and loved!) the first three so far:

Based on the book by E. Nesbit, this story is set in England in the early 1900s. The children, Roberta, Philis and Bobby, suddenly move to the country with their mother after their father disappears suddenly. It's a great story with the historical context of the Russo-Japanese war, Tsarist Russia, and the threat of espionage.
 This adventurous boyhood tale is another movie that is based on a book. It's set in The Great Depression and is the story of 10-year-old Billy and his two beloved dogs. It is filled with themes of friendship, loyalty, and bravery. There is also a newer version of this movie, which I haven't seen. Note for parents of sensitive children: a child dies after falling on an axe. 
This movie is based on the true story of a Canadian soldier who rescues a bear cub and takes it along with him to training camp, and eventually abroad to England where he is stationed in World War I.  David Suchet (the wonderful British narrator to our beloved Jesus Storybook Bible)plays a role in this movie! It's also the story of the bear that inspired A. A. Milne's Winnie The Pooh. Note that the movie contains the drinking of alcohol, a drunken commanding officer, and two uses of the word "hell" as in "what the hell are you doing" and "hell of a good job".

Another movie set in the second world war, this one is about a brother and sister from London who have lost their parents in the war and go to live with an apprentice witch. Although there is is violence, Nazi invasion, guns, and war, the movie is very lighthearted. It may, however, be difficult for younger children because it is so long — over 2 hours!

This classic musical is based on the true story of the Von Trapp family. It's set in the 1930s when Austria was annexed by Nazi Germany. Maria, a  free-spirited young woman who wants to become a nun, leaves the convent to become the governess to an Austrian naval officer's seven children.
Based on the true story of a 6-year-old girl who was the first black child to attend a previously white-only school in New Orleans,  Louisianna in 1960. Ruby and her family display amazing courage and conviction in the face of such hostile opposition — this one really pulls at this mama's heart.
Parents of sensitive children will probably want to skip this one, the verbal assault faced by young Ruby will likely be very disturbing to them. As expected, the language in this movie contains many racial slurs.
Modern History Movie Selections for Middle-School & High School Kids
I've seen lists of so-called "family friendly" movies that contain R rated films that are anything but. While the movies I have included here deal with difficult and more mature subject matter than the above list, these modern history movies are clean and free from excessive and gratuitous violence, sexuality, foul language, and anything that would make your grandmother blush.
Read the reviews linked to check for suitability, and watch these movies with your middle-school or high-school aged kids. They should spark some important discussions!
 Based on one of my most favourite books of all time, The Hiding Place tells the story of Corrie ten Boom, the Dutch Christian woman who, with her family, worked with the underground to rescue Jews during the Hallaucaust. The ten Booms hid many Jews in their secret "hiding place" and helped them to escape until their own discovery and imprisonment. After reading YWAM's version of Corrie's story this year with my children, I'm anxious to re-watch this movie again (but without my kids, it's too violent).
The famous story of a young Jewish girl who kept a diary during her years in hiding from the Nazis in Amsterdam. This powerful story shows what life was like for Jews in hiding, including the fear of discovery and betrayal.
This is an interesting story because it shows a German perspective of WW2 and the Holocaust. In this move (which is based on a book), we see 8-year-old Bruno, a German boy who moves with his family when his Nazi father takes command of a concentration camp. His new home backs on some woods that separate it from the concentration camp, and despite his mother's best effort, young Bruno eventually finds his way to the camp and meets a young boy in the yard. This new friendship challenges everything Bruno has been told about Jews and his relationship with his family as well.
One of the reviews I read indicated that there was one incidence of the f-word being in the film, but I did not hear it. I watched a library copy of the DVD which was scratched, so it's possible that it was skipped over, though I don't see the language mentioned in any other review.
Common Sense Media Review
Plugged In Review
I am David is the touching story of a young boy who escapes from a forced labour camp in post-WWII Bulgaria. It's based on Anne Holm's  1963 novel, North to Freedom in which young David travels from Bulgaria to Italy, Switzerland, and eventually to his final destination of Denmark. The movie is clean, with violence all occurring off-screen, but the subject matter is heavy and potentially disturbing to young children.
Common Sense Media Review
Plugged In Review
This movie is long (it clocks in at 3 hours!) but is definitely worth the watch. Not for young children, it portrays the life of Mahatma Gandhi complete with racial slurs and violence including beatings, riots, a massacre, and Gandhi's assassination. It is very well done, with quality acting, wonderful sets, and a well-written script.