Summer is a great time of year for both spending time with your family AND spending time outside.
But what to do?
Here's a list of 100 things you can do outside with your kids this summer, most of which are free or very inexpensive. Summer plans don't have to be complicated or expensive to be enjoyable!
This post contains affiliate links. Please see my disclosure policy for details.
Free or Cheap Things to do Outside With Your Kids This Summer
Build memories with your family this summer without breaking the bank! Slap on a hat, slather the sunscreen, grab your kids, and head outside to make some great summer memories!
1. Make a bird feeder
This is a great way to attract birds to your yard. Depending on how handy you are, can make them out of wood, pop bottles, or milk cartons. Check out these easy to make bird feeders over on The Homeschool Scientist
2. Do some stargazing
3.  Listen to the birds
Go on a nature walk, or try it out in your own backyard. How many different birds can you hear? Can you identify any of them? We love to use the Peterson Field Guides Birds of North America App to help us identify birds by their calls.
4. Plant a vegetable garden
5. Draw with sidewalk chalk
6. Go on a pond study
Have you got a pond nearby to explore? If so, you and your children can have a lot of fun learning all about what is living and growing in it! My Little Poppies has a nice list of equipment to bring along, as well as instructions on how to have a simple pond study with your children.
7. Go to the beach
8. Build a sandcastle
While you are at the beach, don't forget to build a sandcastle! Or build one in your own sandbox at home or at a park.
9. Build a dam
This was always one of my favourite beach activities as a child. It usually started with a moat around a sandcastle and ended with a complicated network of waterways leading back to the lake. We had so much fun dumping the water into the moat, watching its return path to the lake, and experimenting with dams and detours.
10. Jump over waves
11. Bury yourself in the sand
12. Skip rocks
I keep practising this one hoping to get better at it! My kids are always fascinated with the activity and love to try their hand at it.
14. Press flowers
Pick some flowers from your garden, or gather some wildflowers to preserve using a flower press, a heavy book, or you can even make your own flower press using only paper, cardboard & elastics.

15. Fly a kite
16. Compost
This is a great activity for teaching kids about garbage and gardening! If you don't already compost your kitchen waste, you can invest in one of the many types of composters available, or even compost in an old soda bottle!
17. Have a lemonade stand
18. Pick up trash
19. Make a rainbow
Use your garden hose on a sunny day to make a rainbow!
20. Start a rock collection
21. Plant a tree
22. Paint rocks/make a pet rock
23. Make crayon rubbings (leaves, sidewalks, bricks, etc)
24. Go berry picking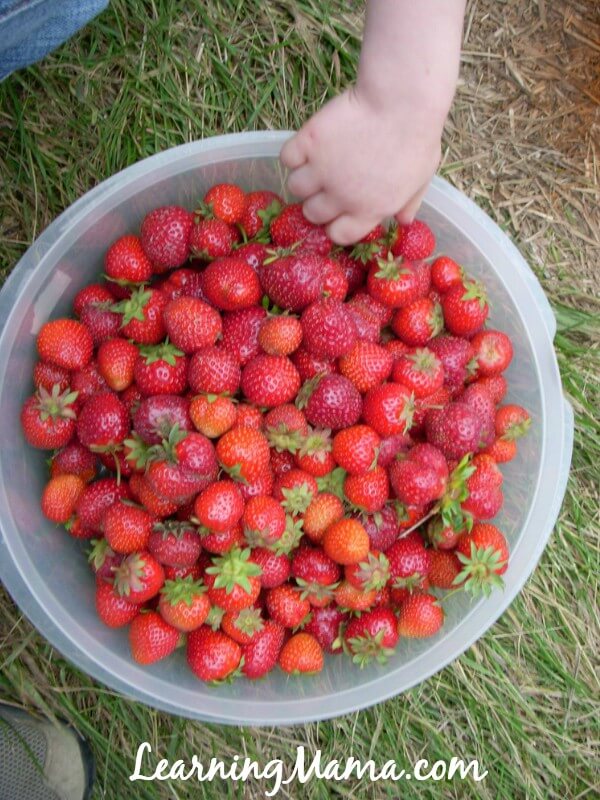 25. Build a fort
26. Go on a family bike ride
27. Have a yard sale
28. Play in the sprinkler or slip & slide
31. Go bird watching
Take along some binoculars and a field guide, and go bird watching. Check out your own backyard, neighbourhood, or a local nature trail, and see who you can find. Bring along some birdseed if you want to be sure to get a closer look.
32. Go camping
33. Have a campfire
34. Go on a hike
35. Go canoeing
36. Have a backyard campout
Not up to a real camping trip with your kids this summer? Why not try a mini camp-out in the backyard instead? If it ends badly, you can always retreat to the house!
37. Fill and throw water balloons
38. Have a water fight
Kids LOVE to play in the water, and they love to compete against their siblings and parents, so gather the water guns, water balloons, DIY sponge bombs, and use the garden hose and have a BIG water fight!
39. Start a nature journal
Don't be intimidated by all the beautiful and complicated nature journals you see out there! Getting started with nature notebooks can be as simple as grabbing a notebook and a pencil and recording your own observations about what you see, feel, and smell in nature.
40. Go walking in the rain
41. Go fishing
42. Visit a local farmer's market
44. Organize a neighbourhood baseball/soccer game
45. Attend a local festival
46. Plant a butterfly garden
Attract butterflies to your yard this summer by planting the flowers that they love!
47. Make a solar oven
48. Climb a tree
49. Have a car/bicycle/toy wash
50. Build an obstacle course
51. Paint the sidewalk with water
52. Have a piñata
56. Play "Pooh Sticks"
Ever since we read The House at Pooh Corner, we've been playing Pooh Sticks when we cross over a bridge. Drop a stick on the upstream side of the bridge, and wait for it to appear on the other. Everyone can drop their own stick, and have a race!
57. Swing in a hammock
58. Play hopscotch
59. Make a volcano
Make your volcano out of play-dough or paper mache, and have fun with your kids (who will want to erupt it over and over again)!
60. Watch a sunset
61. Play miniature golf
62. Watch fireworks
64. Attend an outdoor concert
65. Feed the ducks
67. Lie on a large blanket and watch the clouds
69. Visit a zoo
70. Organize a neighbourhood triathlon
71. Create art out of nature
Make a picture using only pieces of nature, create a nature collage, or even paint with nature! 
73. Gather wildflowers
74. Photograph nature
75. Search for a four-leaf clover
77. Build and walk on tin can stilts
78. Make a scarecrow
79. Make plaster casts of animal tracks
80. Go spelunking/ caving
81. Build a stick structure
82. Go owling
83. Catch insects in a net
84. Go boating
85. Visit a nature preserve/conservation park
86. Have a picnic
87. Catch fireflies
88. Blow bubbles
89. Paint outside
90. Make wind chimes
91. Build a bird bath
92. Go to the park
93. Splatter paint
94. Host an outdoor art show
95. Host a neighbourhood play or talent show
96. Have a backyard movie night
97. Host an old-fashioned strawberry social
99. Skip/jump rope
100. Have a bicycle parade