A couple of months ago, our family was visiting the home of my brother and his lovely wife. I don't remember what we were talking about, but it came up in conversation that my sister-in-law is a bit flabbergasted at my clean house and wonders how I manage to pull it off.
FULL STOP. Someone thinks my house is clean?!  I think I'm still riding the high that thought gave me!
I admit I've always been a little intimidated by HER homemaking abilities. Seriously. This woman can plan, cook, and host a 5-course meal (for a crowd even!), and enjoy it. But sure, she has three children 5 and under who love to play hard all day–maybe her house is messy, but her food is fabulous. And she isn't the least bit stressed when her littles come in the door from making mud pies in the yard and then proceed to walk through the kitchen with muddy boots on or smear dirt on the light switches or doors.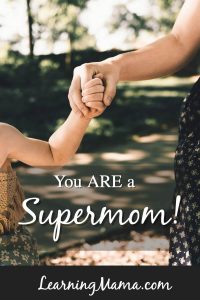 This lovely mama is a fantastic wife to my brother too — she's so positive, outgoing, and hardworking. And she spoils him rotten in the food department. She's been a tremendous encouragement to me lately too, and actually gave me the inspiration and encouragement I needed to give pastry making another try after over 10 years of refusing to try again. My pie loving husband thanks her!
101 Ways to Be an Awesome Mom
After I got over being tickled pink that my sister-in-law was impressed with ME, I spent some time thinking about all the ways she is rocking this motherhood gig. I also started thinking about all the other awesome mamas I know.
Some are great cooks.
Some are great at getting down on the floor to play with their kids.
Some mamas display an endless supply of patience while dealing with tantruming toddlers or disobedient preschoolers.
I know some mamas that make creative snacks for their kiddos, bento style, themed, or cute sandwich cutouts.
Some are forever doing crafts with their little ones and aren't afraid of glitter and mess, and for that, I salute you!
There are a 101 ways to be a supermom. But we all excel in different ways. You are an awesome mom! You have unique strengths, skills, and personality! But I'm willing to bet that if you are anything like me, you just don't see it. You see all the other wonderful supermoms around you, and you forget the ways that you are awesome too!
So mama, when you look at all the awesome moms around you, when you feel like you don't measure up, even when you feel like you're failing — somewhere, someone is thinking that you're doing a pretty awesome job.
I'm willing to bet that your children think so too.
Go ahead and be inspired by those you admire, but do not be discouraged.
Shine in your own way, mama!
You ARE a supermom!
In the interest of full disclosure, I feel I should mention that my sister-in-law lives a good 3+ hour drive away. I can do a lot of cleaning in 3 hours!