The top 100 must-read books for parents to read aloud to their kids.
I can still remember the very first time I read aloud to one of my children.
My very first baby was only a couple of months old, and it was clear that both she and I were getting more than a bit bored holed up in our little house for those long, cold, winter days. She was fussy. I was fussy. So I picked up a board book, the only one we had, and I lay on the floor beside her. I held the book up in the air and began reading and turning the pages — and something magical happened.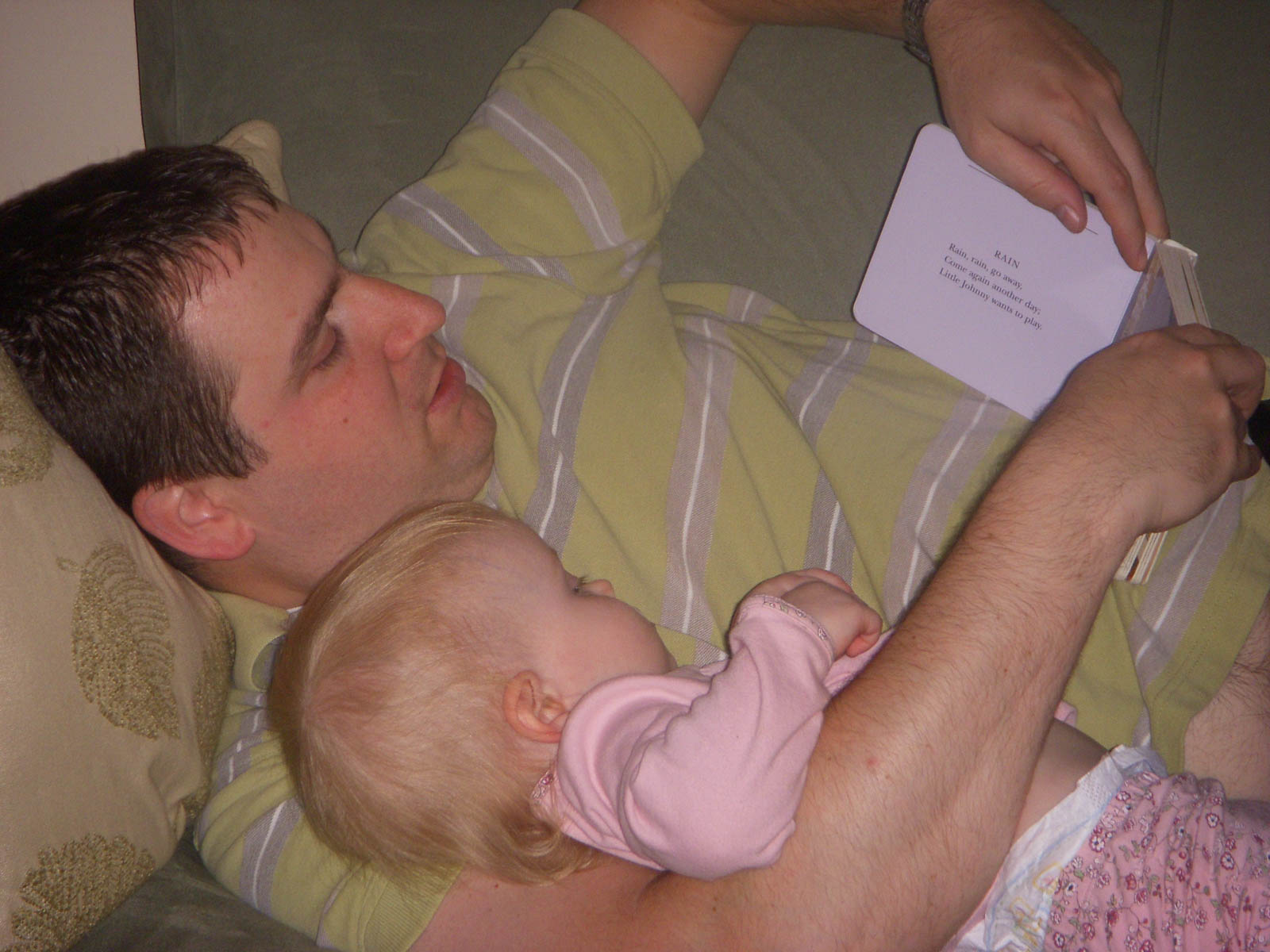 Reading aloud gave me a new way to connect to my little girl. And to this exhausted mother's relief, it didn't involve me carrying on endless one-sided conversations, shaking toys, or making silly faces in order to keep her happy. I discovered an amazing parenting tool that day that has formed our family culture.
Finding Good Read-Alouds
But that very first board book I read to my oldest all those years ago? It kinda stunk. I've had to do a lot of searching over the years to find the good ones — you know, the books that grown-ups don't mind reading, and kids ask for again and again.
A children's story that can only be enjoyed by children is not a good children's story in the slightest."

C. S. Lewis
Several years (and babies!) later, reading aloud to my kids has become one of my most favourite parts of parenting. The snuggles. The stories. The giggles. From those very first board books enjoyed with baby snuggled on my lap, to enjoying action-packed adventures with my older kids while they beg for "one more chapter!" , there isn't anything like it.
Your public library is probably filled, like mine, with choices. But nobody wants to pick a dud or waste their time on a book that lets them down. That's why I'm sharing with you this list of 100 must-read books that are sure to be enjoyable for both you AND your children. From picture books to chapter books, classics to living authors, this list is chock full of books to build memories with!
I've also included a printable version of this list that you can tuck into your purse, take along with you to the library, or keep on hand for those times when you need a trusty list to help you find your next book.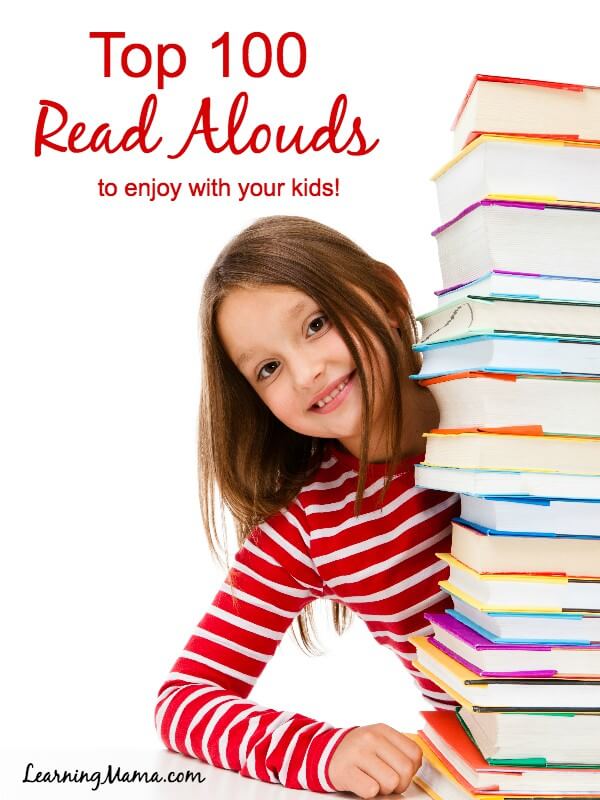 This post contains affiliate links. See my disclosure policy for details.
100 of the Best Books to Read Aloud to Your Children
Must-Read Picture Books to Read Aloud
These fantastic read-alouds are perfect for younger children, but many are enjoyable even for older kids. Use these selections for snuggling up with your babies, toddlers, preschoolers and big kids too!
1. Moo, Ba, La La La! by Sandra Boynton
2. Brown Bear, Brown Bear, What Do You See? by Eric Carle
3. Go, Dog. Go! by P. D. Eastman
4. Where the Wild Things Are by Maurice Sendak
5. Mucha! Muncha! Muncha! by Candace Fleming
6 Tops & Bottoms by Janet Stevens
7. The Napping House by Audrey Wood
8. The Snowy Day by Ezra Jack Keats
9. The Seven Silly Eaters by Mary Ann Hoberman
10. This is My Home, This is My School by Jonathan Bean
11. Miss Rumphius by Barbara Cooney
12. Make Way for Ducklings by Robert McCloskey
13. Blueberries for Sal by Robert McCloskey
14. Owl Moon by Jane Yolen
15. Caps for Sale by Esphyr Slobodkina
16. Harold and the Purple Crayon by Crockett Johnson
17. Madeline by Ludwig Bemelmans
18. Alexander and the Terrible, Horrible, No Good, Very Bad Day by Judith Viorst
19. The Story of Ferdinand by Munro Leaf
20. Strega Nona by Tomie dePaola
21. Stone Soup by Marcia Brown
22. Millions of Cats by Wanda Gag
23. Frog and Toad Are Friends by Arnold Lobel
24. Mike Mulligan and His Steam Shovel by Virginia Lee Burton
25. Winnie-the-Pooh by A. A. Milne
26. Little Bear by Elsa Holmelund Minarik
27. Sylvester and the Magic Pebble by William Steig
28. The Velveteen Rabbit by Margery Williams
29. Curious George by H. A. Rey
30. The Jesus Storybook Bible by Sally Lloyd-Jones
31. The Tale of Peter Rabbit by Beatrix Potter
32. Brave Irene by William Steig
33. A Chair for My Mother by Vera B Williams
34. Cloudy with a Chance of Meatballs by Judy Barrett
35. Goodnight Moon by Margaret Wise Brown
36. Miss Nelson is Missing by Harry G. Allard
37. The Reluctant Dragon by Kenneth Grahame
38. Something from Nothing by Phoebe Gilman
39. The Apple Pie that Papa Baked by Laura Thompson
40. The Gruffalo by Julia Donaldson
Related: Snowy Books for Snowy Days: Great Winter Picture Books
Must Read Chapter Books to Read Aloud
These are my favourite type of read-aloud by far! There isn't anything I love more than well-written kid-lit and this list is sure to please parents as much as it does kids!
Start with the shorter books that have lots of pictures once your little ones are showing signs of longer attention spans, and then move on up as their appetites and attention grows.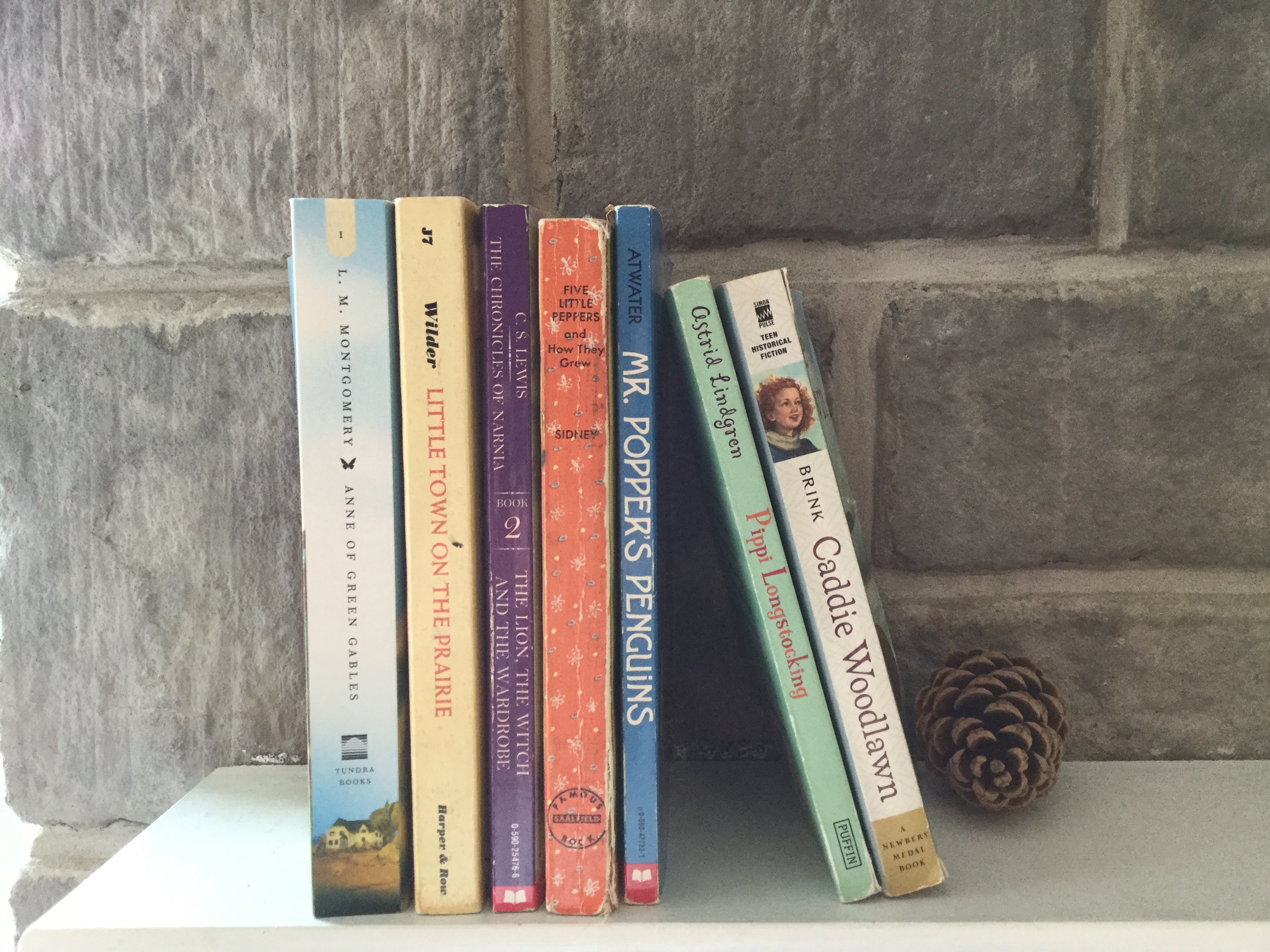 41. Charlotte's Web by E B White
42. My Father's Dragon by Ruth Stiles Gannett
43. The Trumpet of the Swan by E B White
44. Stewart Little by E B White
45. Betsy-Tacy by Maud Hart Lovelace
46. Pippy Longstocking by Astrid Lindgren
47. Little House in the Big Woods by Laura Ingalls Wilder
48. Farmer Boy by Laura Ingalls Wilder
49. Little House on the Prairie by Laura Ingalls Wilder
50. On the Banks of Plum Creek by Laura Ingalls Wilder
51. Caddie Woodlawn by Carol Ryrie Brink
52. All of a Kind Family by Sydney Taylor
53. Understood Betsy by Dorothy Canfield Fisher
54. The Mouse and the Motorcycle by Beverly Cleary
55. The Cricket in Times Square by George Seldon
56. By the Great Horn Spoon by Sid Fleishman
57. Because of Winn Dixie by Kate DiCamillo
58. In Grandma's Attic by Arletta Richardson
59. The Rise and Fall of Mount Majestic by Jennifer Trafton
60. Henry and the Chalk Dragon by Jennifer Trafton
61. The Hundred Dresses by Eleanor Estes
62. The Tale of Despereaux by Kate DiCamillo
63. The Lion, the Witch, and the Wardrobe by C S Lewis
64. Prince Caspian by C S Lewis
65. The Voyage of the Dawn Treader by C S Lewis
66. The Silver Chair by C S Lewis
67. The Horse and His Boy by C S Lewis
68. The Magician's Nephew by C S Lewis
69. The Last Battle by C S Lewis
70. On The Edge of the Dark Sea of Darkness by Andrew Peterson
71. North! Or Be Eaten by Andrew Peterson
72. The Monster in the Hollows by Andrew Peterson
73. The Warden and the Wolf King by Andrew Peterson
74. Tuck Everlasting by Natalie Babbit
75. The Green Ember by S D Smith
76. Ember Falls by S D Smith
77. Ember Rising by S D Smith
78. Anne of Green Gables by L M Montgomery
79. Mary Poppins by P L Travers
80. Nurse Matilda by Christianna Brand
81. Ella Enchanted by Gail Carson Levine
82. The Family Under the Bridge by Natalie Savage Carlson
83. The Wizard of Oz by L Frank Baum
84. Little Women by Louisa May Alcott
85. Little Men by Louisa May Alcott
86. A Little Princess by Frances Hodgson Burnett
87. The Secret Garden by Frances Hodgson Burnett
88. Peter Nimble and His Fantastic Eyes by Jonathan Auxier
89. The Bark of the Bog Owl by Jonathan Rogers
90. The Secret of the Swamp King by Jonathan Rogers
91. The Way of the Wilderking  by Jonathan Rogers
92. The Mysterious Benedict Society by Trenton Lee Stewart
93. Journey to the River Sea by Eva Ibbotson
94. Peter Pan by J M Barrie
95. The Railroad Children by E Nesbit
96. Number the Stars by Lois Lowry
97. Sarah Plain & Tall by Patricia MacLachlan
Related: 10 Excellent Early Chapter Books for Newly Independent Readers
Funny Stories to Read Aloud to Your Children
These selections are sure to add a few giggles to your read-aloud time!
98. Sideways Stories from Wayside School by Louis Sachar
99. Mrs Piggle Wiggle by Betty MacDonald
100. Mr Popper's Penguins by Richard Atwater
Related: The Ultimate Guide to Keeping Busy Kids Quiet (& Engaged!) During Read Alouds
Need more read aloud inspiration?
If there's one thing I'm passionate about, it's reading, reading aloud, and books. Looking for help, inspiration or ideas? I've got you covered!
And don't forget to check out more 100 Things from the bloggers of iHomeschool Network.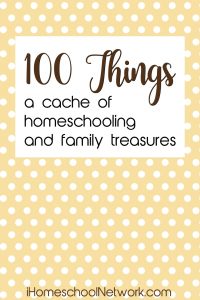 What are your favourite read alouds? Share in the comments, and don't forget to grab your free printable booklist!