One of my very most favourite things to do with my kiddos is reading aloud. I love kidlit and look forward to my special read-aloud time with my big girls all day (it's also bedtime, so that might also be part of it!)
Snuggles, stories, giggles, and oodles of great conversation. It doesn't get much better than that.
2017 was a great year for reading with my kids. We went on so many adventures, visited imaginary lands, and travelled in time and space! We were inspired by heroes and had our funny bones tickled.
When I asked my kids to give me their top five books from the past year, I noticed something pretty unusual for us — all of our picks are fairly recently written books from living authors. It seems that our reading list was heavily weighted that way this past year!
Also interesting to me is that they are all in the fantasy genre — a type of book I never enjoyed, or even tasted until a few years ago. That just goes to show that our tastes in books can be constantly changing and appetites can be cultivated. Reading with my kiddos is having a good effect on me!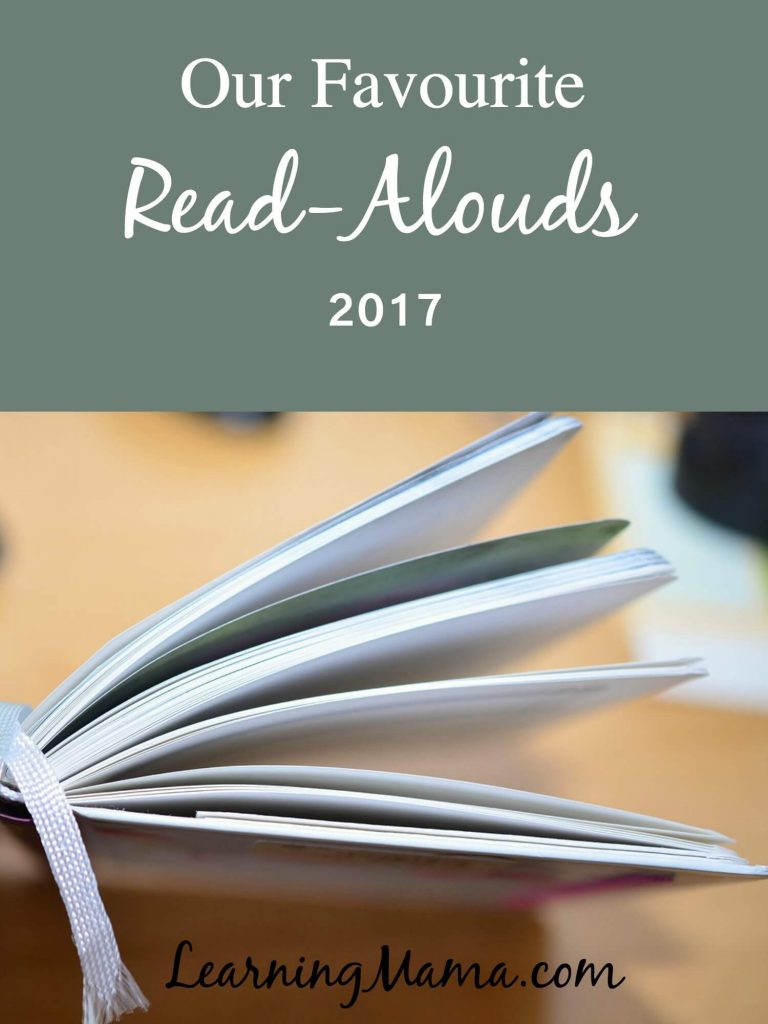 This post contains affiliate links. See my disclosure policy for details.
So if you're looking for a great read-aloud this year, check out our top picks from our last year — all enjoyed and approved equally by myself and my 7 & 10-year-old.
Our Top Read-Alouds of 2017:
"Of all the words that have ever been invented, that is the worst. All of the terror in the world hangs on the word might" 
2017, we were introduced to Jennifer Trafton. Mount Majestic was our first read of hers, and we are hooked! It's the tale of an ordinary girl with ideas and yearnings for an extraordinary life — who suddenly finds herself in the position to be a hero on a dangerous adventure. This book had us giggling up a storm! It's funny, playful, witty, and inspiring.
"A boy your age should know better than to consider anything impossible."
Jonathan
Auxier was also new to us this year, and I sought him out after hearing his interview with Sarah Mackenzie on The Read-Aloud Revival. This book turned out to be excellent! At first, I was a little unsure of how I felt about it — the hero is a thief after all. But in the end, Peter won me over and I loved this fanciful adventure! I was so hooked by this hero that I just had to get my hands on his next adventure, which my children found equally riveting.
"Suffice it to say, if one hopes to live in a world of wonders, he had better locate himself in a place where wondrous stories abound."
Nimble's second adventure features a new, female hero named Sophie Quire. In so many ways, I loved this book even better than the first. A book burning pyre, the outlawing of "nonsense", and a young heroine tasked with saving stories and magic — this adventure didn't disappoint!
What did disappoint, however, was some of the content. It was easy enough to skip over while reading aloud to my girls, but I was so glad that my 10-year-old hadn't read this one independently as it does include some references to female character acting seductively to get what she wants (and teaching Sophie to do the same) and operating an "oubliette" or drug den.
You have to be brave to be an artist … it takes a fearless knight to imagine something and then let it out into the world".
Trafton for the win again with this cute story of a boy whose drawings come to life. Henry and the Chalk Dragon is published by Rabbit Room Press, so I was pretty sure it was going to be awesome, and it was! What child wouldn't appreciate the dilemmas that could ensue if their art were to come true!
"You are the smartest children I know. You just don't believe it."
I'm including our current read-aloud in our favourites of 2017 because although we aren't quite finished reading it yet, we are trying desperately to get it finished — it's just that good! This book features a group of clever children who are out to save the world from a brainwashing villain. It's funny and has us trying to solve riddles and puzzles along with the young heroes.
What Will We Be Reading in 2018?
We've already got a good start on our "to read" stack for 2018! Our Christmas gifts included 2 new to us book series (The Wilderking Trilogy and The Growly Books) and I'm hoping to start the new year off with one from each.
We are also super excited about the release of two new Green Ember books from S. D. Smith, The Last Archer (December 2017) and Ember Rising (watch for the Kickstarter January 2018).
We are also due to move on to a new Narnia book this year. I can't believe we didn't read one in 2017 — time to remedy that!
What was your favourite book from 2017?