Inside: Our top 5 Favourite books that we read aloud in 2018.
2019 was a great year for reading with my kids. We enjoyed so many books together! We travelled around the world, to different times in history, and even to different worlds. We cheered for our favourite heroes, sat on the edges of our seats, and roared with laughter.
It was also a difficult year for read alouds in our family. It's gotten harder to chose books that appeal to everyone as our family has grown and matured, The kids are getting more opinionated (which when it comes to reading, is definitely a good thing!)
Most of what we read goes over the head of the 4-year-old, and the pre-teen in the house isn't as interested in the idyllic pioneer type stories that she used to love.
It's also becoming harder and harder to fit in our reading aloud time. It seems each year we are outside the home more and more, even sometimes missing our bedtime reading. The kids are spending more and more time on school work and activities and less time snuggled up with mama. Sniff.
This past year audiobooks have been the saving grace of our read-aloud time. There's nothing like a good narrator to suck you into a book you might otherwise have written off after the first chapter.
They've also allowed us to redeem the time we spend driving. Between piano lessons, gymnastics, co-ops, and Kids Club, we've squeezed in so many extra hours of reading! We've relied so much on audiobooks this past year that 3 out of 5 of our favourites were audiobooks.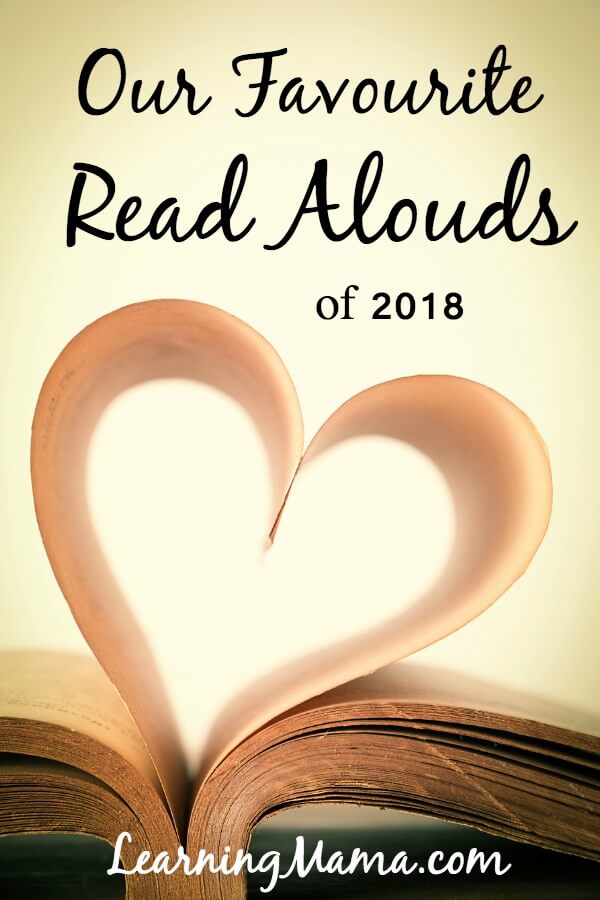 This post contains affiliate links. See my disclosure policy for details.
Here they are, starting with our very favourite! They're mostly in order of popularity, but of course, not everyone agrees perfectly. Opinions and all that.
Top Read Alouds of 2018
This is the third book in The Green Ember series, and we were ready and waiting for it to be released! I think I purchased it the first day it was available on Audible. It continues the adventures of Heather & Picket, two brave rabbits who are fighting against the evils of Morbin and his ilk. You don't want to miss Joel Clarkson's narration of these books — he does the voices, the singing, he even composed music to go along with it. There is frequent singing of "My place beside you — My blood for yours — Till the Green Ember Rises — Or the end of the world!" around our house, especially when we are in the middle of one of Smith's books.
I read this sweet little book to my 7-year-old daughter while her big sister was away at camp. It's the story of the faith and survival of a young girl facing a storm and flood that has separated her from her father and threatens her very life. It's short, sweet, and charming!
T
his book has all the important elements of a fairy tale — a King, a princess, a castle, and a dungeon. There's no dragon, but there is an evil rat. The hero is a courageous little mouse who is in love with the princess. It's cute, funny, and suspenseful. The movie was great too!
Set in Brazil in the early 1900s, Journey to the River Sea is the story of a young and curious orphan named Maia who moves from England to Brazil to live with distant relatives. She goes expecting a wonderful world of discovery with a loving family. Instead, she finds herself confined to a stifling house with bad-tempered guardians and their spoiled and vindictive twin daughters. The book feels a bit like Frances Hodgson Burnett's Secret Garden and has mystery, adventure, and a cast of interesting characters.
Unlike The Tale of Despereaux, this DiCamillo book has no talking animals, though the hero is a dog. It rings true to life and explores childhood struggles such as absentee parents, alcoholism, moving, and making friends. India Opal, the 10-year-old daughter of a pastor, faces all these issues with the help of her furry friend Winn-Dixie. The heavy topics introduced in this book are addressed in a positive and sensitive way, but the story did bring a few tears to this mama's eyes.
Those are our favourite read-alouds of 2018! We're looking forward to reading more great books together this year (and are hoping desperately for the next installment of The Green Ember Series).
More: Our Favourite Read Alouds of 2017
What were your favourite read alouds last year?