Do you have a serious book-lover on your gift list this season? Do you wonder what on earth to get them? Have no fear, I've got a whole list of gift ideas that are sure to please your beloved bibliophiles!
Gift Ideas for Book Lovers
While there is probably nothing a book-lover would rather receive that a cherished new book, buying books for serious book lovers can sometimes be a tad troublesome. How do you know what they have already read? What is already in their collection? I mean, unless they have an Amazon Wishlist all made up for you — then, by all means, go for that!
If your bookish friend hasn't provided you with a wish list — have no fear! Today I'm going to give you a list of gifts that any book-lover would be sure to appreciate!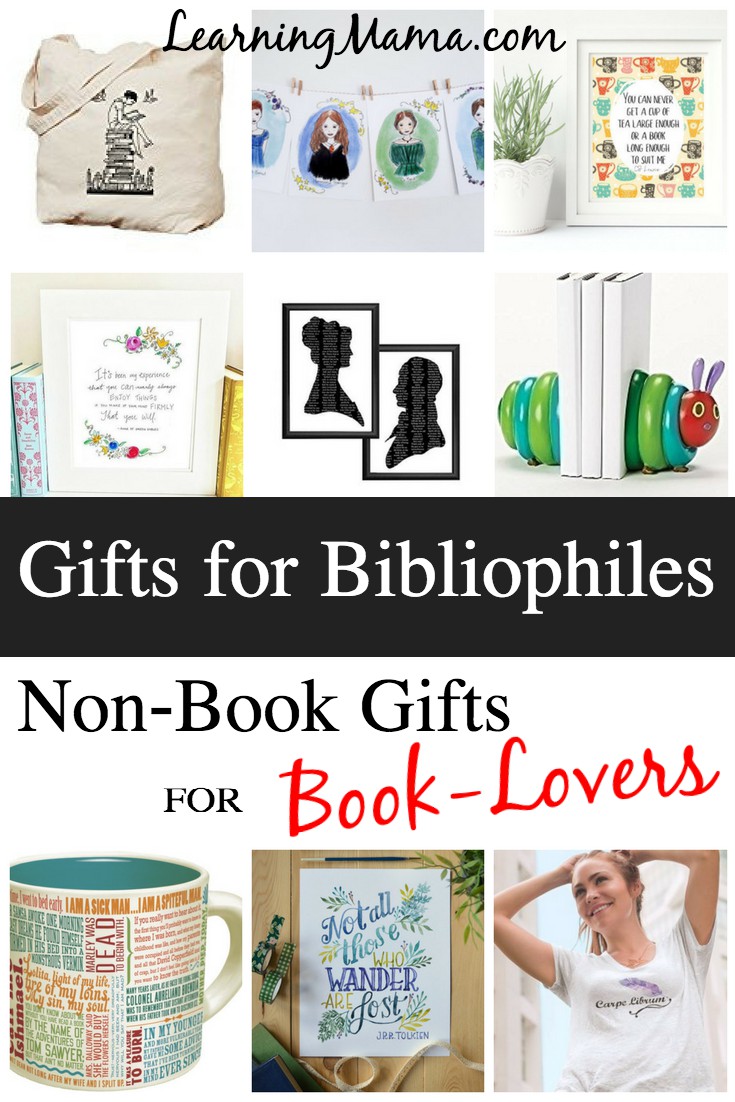 Non-Book Gifts for Book Lovers
This post contains affiliate links. Please see my disclosure policy for details.
1. Literary Inspired Art Prints
Book quotes and artistic representations of fictional characters are a great way for a bibliophile to decorate. Find something that ties in with their favourite author or book, and you're golden!
2. Bookish Mugs
As C. S. Lewis said,"You can't get a cup of tea big enough or a book long enough to suit me". Whether your bookish friend likes to sip tea, java, or something else, they will appreciate a well-chosen mug!
3. Beautiful Bookmarks
These bookmarks are lovely, aren't they? You can choose from Laura Ingalls, Lucy Pevensie, Jo March and more!
This Wizard of Oz inspired bookmark is a hoot!
Book Darts have been on my own personal wish list for months now! Perfect for serious readers who want to mark a particular passage to come back to, and for when reading library books or others that you don't want to mark up.
4. Reading Journal/Commonplace Book & Quality Pens
If your book lover keeps a commonplace or reading journal, then a beautiful notebook would make a wonderful gift! There are so many types available! This would also be a wonderful gift for the young readers on your list — you could help get them started on this wonderful practice! 
5. Audible Membership
Buy your book lover a year membership to Audible, and they will get an audiobook of their choice each month! Then you don't have to worry about their tastes and preferences — they can choose their own titles.
6. T-Shirts
Literary quotes and reading themed t-shirts are a great way for avid readers to express their love for literature.
7. Bookends
There are so many bookends available! Cute or serious, there is something to match the tastes and personalities of everyone, young and old.
8. Reading Lamp
A lack of adequate light for reading has been a difficulty for me personally in the last few years. Buy your book lover a floor, desk, or a wearable lamp to help them read during the dark winter evenings.
9. E-Reader Cover
If your book lover uses a Kindle or other e-reader, a stylish case or cover would make a great gift. If you have any sewing, knitting or crochet skills, this might also be a great opportunity for giving a handmade gift!
10. Tote Bags
Serious library patrons and book lovers NEED a durable tote to carry their books — there are a lot of stylish and sturdy options available! Look for strong, canvas straps and reinforced seams to make sure your gift can handle your book worm's load.
There you have it — I hope you've found something on this list that will please your book-loving friends or family members! So many of these gift ideas can be personalized, and I'm sure your bookish loved ones will feel extra special whatever you choose!
Looking for more help with gift ideas? Check out my awesome gift ideas for toys that bring stories to life through play, and all the gift guides put together by the bloggers of the iHomeschool Network!