There seems to be a lot of buzz among homeschoolers lately about Morning Time. Or Circle Time, Morning Basket, Power Hour, and Symposium as I have also heard it called. It's a great way to start your homeschool day, although some homeschoolers have this same practice occurring later in their day as well.
This post contains affiliate links. Please see my disclosure policy for details.
Morning Time has been a part of our homeschool from the very beginning. We have actually been doing Morning Time since before I'd even heard of Morning Time! From the time my oldest was kindergarten age, we have begun our days all together with songs, read alouds & devotional reading. During the early days when I had only a kinder and toddler, it was short & sweet. It also comprised pretty much the whole of our planned learning activities for the day. I can even remember having everything wrapped up some days before the local school bus had picked up the children from the neighbours house across the street!
These days, Morning Time is  much more varied as I try to meet the needs of three age groups: toddler, kindergarten, & elementary. While having a 3 year or greater age gap between my children is great for the baby, sleep deprivation, and diaper stages, it is definitely more challenging when it comes to learning together. So we start with the toddler fun (Incy Wincy Spider, and the like), and move on up to picture books, and finally Bible Study & Art Appreciation.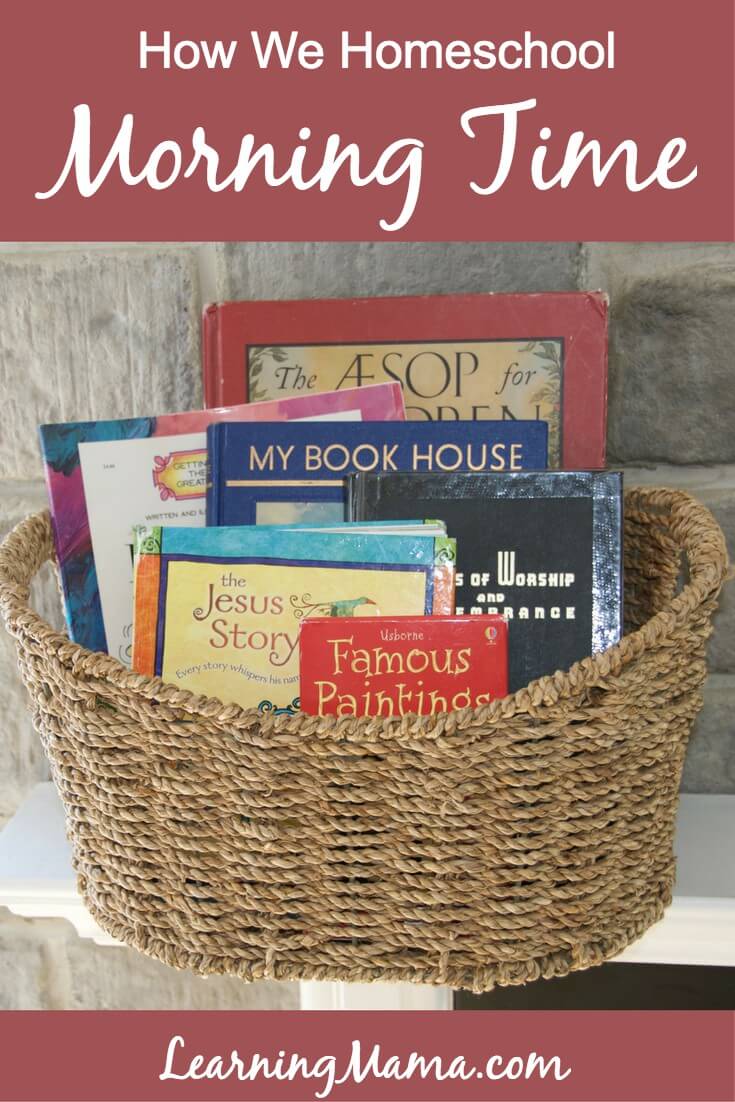 Currently, our Morning Time looks like this:
Couch Time: Reading, hymn singing, and praying.
Circle Time: Singing, rhyming, clapping and dancing. Much loved by both my toddler and kindergartener.
Table Time: Memory work, copywork, Bible study, and Art or Music Appreciation. We also like to enjoy a hot beverage at this time. The toddler sometimes joins us, but usually wanders off long before we are through.
Some of our favourite resources for morning time:
The Jesus Storybook Bible. This is our all time favourite, and has always been a part of our Morning Time. This will probably remain a staple in our days until all the children are at least elementary aged.
My Book House. I first heard about this lovely book set from Sarah Mackenzie of Amongst Lovely Things and The Read-Aloud Revival podcast. I had the opportunity to purchase an old blue & green set published in the 50's, and it is worth every penny. If you are curious about the set, check out Pam Barnhill's Ultimate Guide to My Book House for Homeschoolers.
SQUILT Music. I'm really enjoying learning about music with my kiddos using this resource!  After reviewing the SQUILT Christmas Carols edition back in December purchased all 4 volumes so that we can study music chronologically with our history. Whether you know anything about music or not, this program is great!

Our 24 Family Ways. We really loved using this devotional guide, and I look forward to going through it again in the next year or so when my youngest children will be able to get more out of it. I wrote about our experience using it here.
I'm really looking forward to our Morning Time continuing to evolve and develop as our homeschooling journey continues. The longer we homeschool, the more that I am convinced that the true fruit of home education is accomplished during the daily activities and rituals we engage in during this special time together.
If you're interested in starting a Morning Time in your homeschool but don't know where to begin, do check out Pam Barnhill's resources at EdSnapshots.com. She's got a lovely podcast all about the practice, as well as a step-by-step guide to setting up a Morning Time in your homeschool. If you want to bypass all the stress of planning your own Morning Time, you can even let Pam do the planning and buy her pre-made Morning Time Plans! 

Do you have a Morning Time in your homeschool day? How has it changed over the years?