I am so very excited to be sharing with you today how we have FINALLY incorporated Music Appreciation into our homeschool! I confess that I have zero musical experience, am unable to read music, and have an embarrassing lack of knowledge of composers, musical terms, or even styles and periods of music. I might be able to distinguish between Country, Rock, or Hip-Hop when flipping through radio stations, but that is about it.
My oldest has been taking piano lessons for a few years, and up until recently, that is all the music that has been included in her education.
This post contains affiliate links. Please see my disclosure policy for details. I received this product in exchange for an honest review. All opinions are my own or those of my family.
Enter SQUILT Music Appreciation Curriculum — the perfect solution for this relaxed classical homeschool mom! SQUILTs curriculum is designed by Mary Prather of Homegrown Learners. She has an undergraduate degree in Music Education as well as a Masters degree in Education and has put together this fabulous resource that is so easy to use that even this musically challenged mama can do it!
What is SQUILT?
SQUILT stands for Super Quiet Uninterrupted Listening Time — which is the core of the program — sitting quietly with your students and really listening to the piece. The program is digital and contains everything you need to add Music Appreciation to your homeschool –all you need is a computer or device with which to access it, a printer for the notebooking pages, and some pens/pencils/crayons.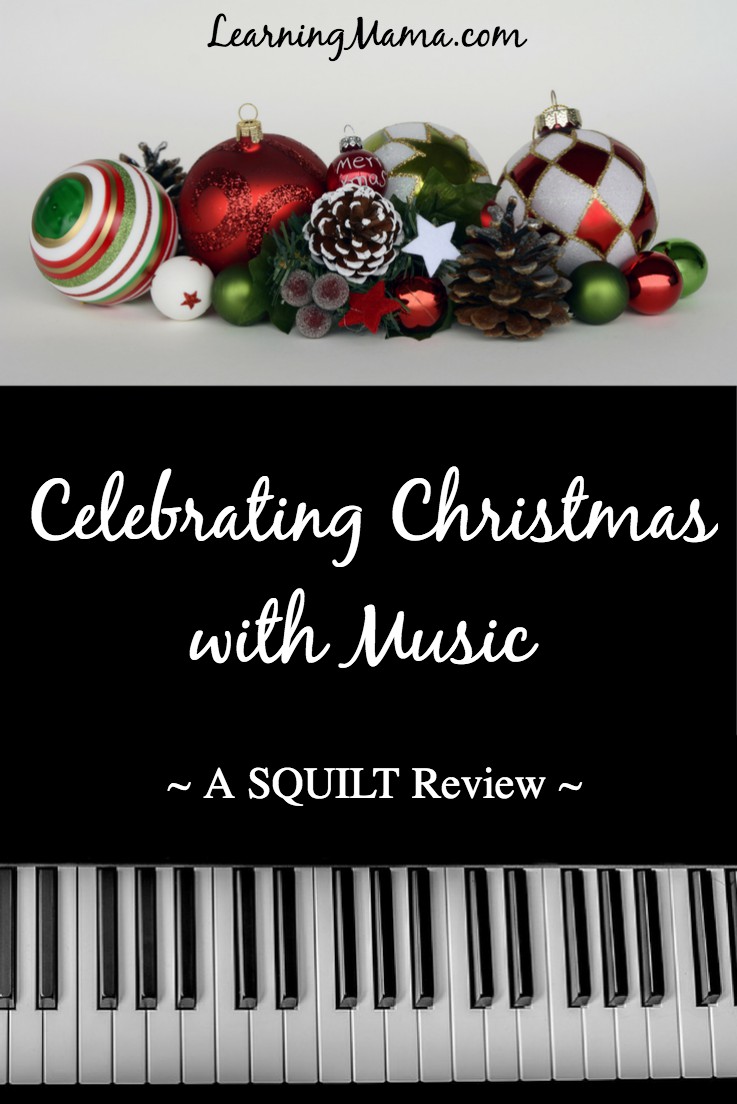 An Easy Way to Add a Little Christmas & Music Appreciation to Morning Time
The files were easy to download to my Macbook, and then I saved them to my Google Drive so that I could access them comfortably throughout the house on my iPad. Because I am very much a paper person, I did print myself a hard copy that I could sit on the couch with (and not have my toddler grabbing at the technology!) I played the music on my EU BOOM Bluetooth speaker and I also used my library's Freegal subscription to access some other versions of the songs and streamed them for listening.
SQUILT Christmas Carols Volume 1 & 2 are shorter than the other SQUILT Curriculum and contain 5 lessons each and are just perfect for this time leading up to Christmas. The program begins by defining what a Carol is and then provides an overview of the components to listen for (dynamics, rhythm/tempo, instrumentation, and mood). Notebooking pages for both writers and non-writers are included as well as links to the individual pieces of music (several examples of each) to listen online as well as some supplemental activities.
I decided to add our music appreciation to our usual Morning Time routine, two or three times a week. On the very first day, we would do the "super quiet" listening — I simply asked my girls to grab a throw pillow and rest while they listened to the piece. On the second and third days, they would complete the notebooking pages; my Kindergartener would use the "Draw What You Hear" page and my Third Grader the regular one (but she also loved the drawing page and usually used both).
I am so grateful for how easy this program is to use! All the answers are provided, so I don't have to decide whether each piece is mezzo forte or fortissimo, an example of crescendo, or if it has an allegro or andante tempo. I'm sure I couldn't if I tried! I also love that it has introduced these words to my vocabulary and I am beginning to understand more about music and learn along with my children — which is my favourite part of homeschooling.
What's Included in SQUILT Christmas Carols?
SQUILT Christmas Carols Covers the following pieces:
SQUILT Carols Volume 1: Carol of the Bells, Away in a Manger, The Little Drummer Boy, Angels We Have Heard on High, and O Come, O Come Emmanuel.
SQUILT Carols Volume 2: Bring a Torch, Jeanette Isabella, Go Tell it On the Mountain, In the Bleak Midwinter, The First Noel, and Calypso Carol.
We have greatly enjoyed adding both Christmas cheer and Music Appreciation to our homeschool this year!  And I am excited to continue with Music Appreciation during our Morning Time in the New Year — especially since SQUILT has their other courses arranged by time period, which will be a nice complement to our History studies.
I encourage you to check out the various resources available from SQUILT, and enjoy music with your children this Christmas — or at any time of year!