I didn't grow up going to operas, art galleries, ballets, or orchestras. Our local museum was one of those tiny local varieties that showcase only local history and take less than an hour to visit. My life experiences included no haute cuisine, no black tie events, and no classical music.
Thanks to my dad, my childhood was rich in music. But the soundtrack of my childhood was all Neil Young, Fleetwood Mac, & The Guess Who; not Handel, Beethoven, & Bach — that's right, I grew up on Classic Rock.
While I do appreciate the music I grew up on, I want my children to have an education beyond what I had.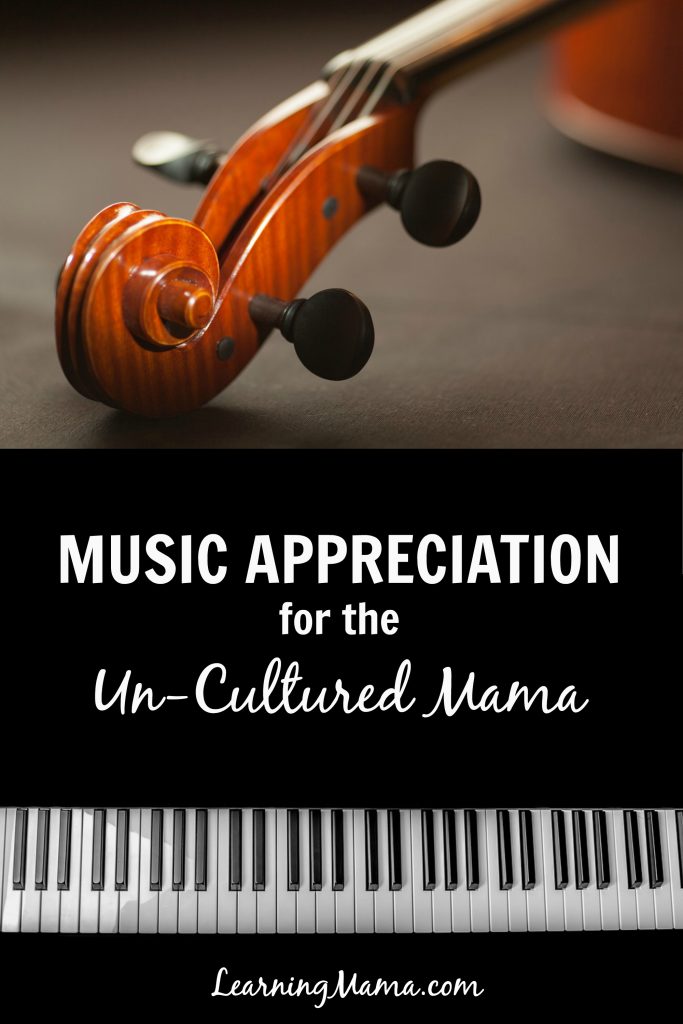 This post contains affiliate links. Please see my disclosure policy for details.
I want them to read the great books, understand the big picture of world history, and even learn Latin. And I also want them to be able to appreciate the beauty of music, especially the great composers throughout history.
 I long to be able to provide my children with the education I never had.
Music Appreciation for the Non-Musical Homeschool Mama
Part of what was missing in my own education is musical training of any kind. While my father did pass on to me his love and appreciation for classic rock and I did learn to play Ode to Joy on the recorder (rather poorly!) in third grade, that is the extent of my musical education. I can't read music, differentiate between a sharp a flat, and until recently could barely identify the families of instruments in the orchestra!
How can a homeschool mama pass on to her children what she doesn't have herself?
She can't.
But what she can do is find some inspiring and well put together resources, books, and CDs and learn with her children
A Complete Musical Appreciation Curriculum for Your Homeschool
My all-time favourite resource for jumping into music appreciation as a novice has been SQUILT Music. SQUILT is perfect for the homeschool mama who has no musical background and doesn't feel equipped to teach her children about music
And while I don't have any teacher or musical training, Mary Prather has both, and she's put together open & go curriculum for studying music in your homeschool or co-op. We use her Musical Eras Bundle in our Morning Time and enjoy studying music in tandem with our history studies.
She's also got composer & seasonal bundles, flashcards & games, and a newly launched SQUILT Live Music Appreciation Membership (just press PLAY – it can't get any easier than that!).
Thanks to Mary, I'm becoming more versed in classical composers, instruments, and even starting to understand concepts like rhythm, tempo & dynamics!
Great Audios for Fun and Engaging Music Appreciation for the Whole Family
Besides actual music appreciation curriculums, there are also some quality resources that you can use expose yourself and your children to the classics and help spark a love of music in your family. These options also include supplemental lesson plans and activities, but the audios themselves are perfect on their own and are great for tuning in on car rides, during quiet time, or while having lunch.
A super easy way to learn all about classical music with your children is with Maestro Classics. Maestro Classics was created to educate while entertaining. Available as both CDs or Mp3s, each also includes a program booklet with biographies, interesting information on a variety of related subjects, and is illustrated by a noted artist or children's book illustrator whose work reflects the spirit of the music.
My kids are still singing the song about Handel they learned at their homeschool co-op last year! Plus, one of the featured narrators is a favourite around here — Jim Weiss. We've put the whole collection on our Christmas wish list!
Classics for Kids is a podcast featuring classical composers. It is largely biographical in nature, but their website has all kinds of information on musical instruments, timelines of composers and more. They even have lesson plans and activity sheets on their site for you to use with your children. Pair this with CDs from your public library so that you can hear the complete songs.
Our library has a selection of these wonderful audio dramas, and they are so much fun! Classical Kids uses powerful stories to humanize the lives of the great composers and create an emotional connection to their musical masterpieces. Teacher's Notes with activities are also available.
Using Picture Books to Inspire Music Appreciation
Don't neglect your public library when on the hunt for music appreciation resources. Besides a large selection of classical music CDs, they also likely have picture books that will inspire your children's curiosity about great musicians. We have loved Mike Venevia's series of books, Exploring the World's Greatest Composers (his artists series is also a favourite resource for art).
Emily, from Table Life Blog, has a great list to help you introduce music appreciation through children's books. You can also just search your library catalogue for the composer you want to study and see what is available. Pick up a few books, and add them to your morning time!
What are your favourite music appreciation resources?