Looking for a high school elective that covers all of those oh, so important life skills your kids need to know before leaving home? Check out our review of Voyage!
When my kids were young (and so cute!) they were so sure of what they wanted to do when they grew up. I remember my oldest daughter once told me she wanted to be a farmer's wife or a fire hydrant. I'm pretty sure she meant firefighter but we've sure enjoyed laughing about this one over the years!
They were so confident in their choices back then!
"Mommy, I want to be a rockstar when I grow up," one particular child told me, "and if I can't be a rockstar,  then I want to be a lemonade stander". Luckily for her, she was able to achieve this ambitious life goal at the tender age of 8 when she ran her own lemonade stand at a community garage sale. We're still waiting for the rockstar gig to pull through though.
Life Skills and Life Prep for Teens
Over the years my kids have become a whole lot less sure (and entertaining!) about what they want to do with their future adult lives. I've always believed in the importance of teaching life skills to my children and not solely academics, so now that that adulthood is quickly approaching, I'm looking for resources and opportunities to help them explore the possibilities and plan for the future.
What I really need is a high-school elective that covers career & college prep, financial literacy and life skills. Really, a course in life-prep!
This post is sponsored by Thrive Academics. I received access to this product and was compensated for my time. As always, all opinions are my own.
What is Voyage?
Voyage is a fully online, animated, and interactive course from Thrive Academics designed to teach high school students how to succeed in life after high school. It prepares your student to transition well into adulthood through five modules:
Who Am I?
Career Planning
College Planning
Financial Responsibility
Everyday Living
Thrive Academics' Voyage Life-Prep Course – Our Review
We're using Voyage this year with my 9th grader to get her ready for life after homeschool in the adult world. Here's our comprehensive review of all of the course modules and how we are finding the program so far!
Voyage # 1- Who Am I?
The first module of Voyage is all about discovering your strengths and weaknesses, passions and creating your own purpose, vision and personal brand.
Students will craft their own purpose statements and learn how to make SMART goals (Specific, Measurable, Attainable, Realistic, Timely). They will also use a skills profiler to identify their strengths and explore which types of careers may be a good match for them later. My daughter thought this part was really cool! One of the matches she identified through the profiler was Museum Curator and Archivist — no real surprise there!
The resources section in this module is really neat — it's full of great, printable worksheets where your student can type in their vision and purpose statements and more and then display them where they can be reminded of what they are working towards.
Voyage #2: – Career Planning
In the second module of Voyage, students move from virtual "building" to building  (library, cafe, college campus, etc.).to explore various aspects of planning their future careers. They will
Assess career interests & skills using a personal profiler
Discover career possibilities to match their profile
Virtually visit a campus & "meet" students to learn about college & higher education
Practice applying for jobs, learn to build a resume & build a cover letter.
Participate in a virtual job interview.
The extra resources in this section include lots of printable notes and worksheets that your student can use to take note of the results of their career interest & skill profile as well as for future reference when they are interested in actually applying for jobs.
Voyage #3: – College Planning
This module is all about getting your student ready for college, from the application process and paying for college all the way to campus life. On Voyage #3 students navigate through a college fair, computer lab, financial aid office and the lobby to:
learn about the different types of schools (community college, 4-year university, trade/technical school)
learn how to research the best schools for them
learn how to submit college applications
practice filling a college application form
learn about the different ways to pay for college
learn what to do once you've been approved
learn the difference between prerequisite courses and Gen. Ed classes
practice creating their own class schedule
learn about campus life
understand the hidden costs of going to college
There was quite a bit in this section that doesn't apply completely to us here with the Canadian system of post-secondary education, but it showed me what areas I need to investigate with my own students as they approach the end of their home education. There are Canadian equivalent websites, for example, for searching for bursaries, grants, and scholarships.
It was also interesting to play around with a drag and drop schedule in this learning module and see how difficult it can be to consider juggling class times, prerequisites, and semesters. There was also a quiz linked to the campus life module to help students identify which kinds of extra-curricular activities and clubs they may like to get involved with depending on their particular interests and personalities. Fun!
Voyage #4: – Financial Responsibility
The fourth voyage of the course is a crucial one I think many of us missed out on during our own teen years. So many people make a mess of their financial lives during their college years and it can take years to dig out of it! A few early lessons in balancing a budget could save years of debt, penny-pinching and recovery!
This voyage has students navigating through an office building visiting the credit department, accounts department, taxes department, cafeteria and conference room. They learn about:
the 3 main types of bank accounts (savings, checking, retirement)
how to apply for a bank account
credit, interest, and credit cards
good credit and how to achieve it
tax bills & receipts
how to dispute a bill or fee
income vs expenses
how to balance a budget
student loans
pros & cons of paying back loans promptly
On the practical side of things, students get to practice:
opening and applying for a bank account
completing a tax form
creating a budget based on income
writing a cheque
There are a few topics within this module that I will have to supplement with Canadian-specific content (RRSP vs 401K for example), but it still helped me identify what to cover.
Voyage #5 – Everyday Living
The last module of Voyage is a bit of a catch-all for those everyday life skills and healthy living practices that are oh so important in a balanced life. Healthy eating, communication & relationships, exercise, travel, home and auto are all covered in this section.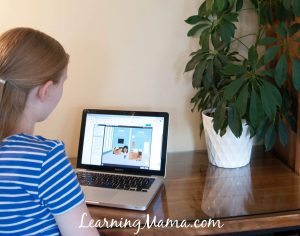 More things to know about Voyage…
You get all 5 modules of Voyage for $60
The course is fully online; students will require a computer or tablet with a good internet connection for each lesson
The course is presented via audio, so your student will need speakers or headphones to listen. Conversely, the material can be read by clicking on CC (closed captioning)
Course content requires students to click away from course content to other online material
The course is self-paced but the subscription is valid for a full year.
Get Thrive's free Adulting checklist that helps high-school students prepare for life after they graduate.
Thrive Academics is generously offering their Voyage courses to 5 lucky winners. Enter for your chance to win this life-prep course for teens below!