Now that all your shiny new curriculum and thoroughly considered homeschool plans have lost their new car smell, it's probably a good time to conduct a mid year homeschool review. After all, a good plan is only good so far as it is actually carried out and accomplishes what you set out to do.
It's time to check and see if that new curriculum is doing all it promised you at the convention last year.
Reflect on your goals and see if you are on track to meeting them.
And possibly admit that the curriculum that worked perfectly for child #1 makes child #2 want to jump out the window.
Our Mid Year Homeschool Review
Take a peek at our 2017/2018 Homeschool Curriculum Picks, and read on to see how they're working out for us. This is our mid year homeschool update and a list of what's working and what's not in our homeschool this year: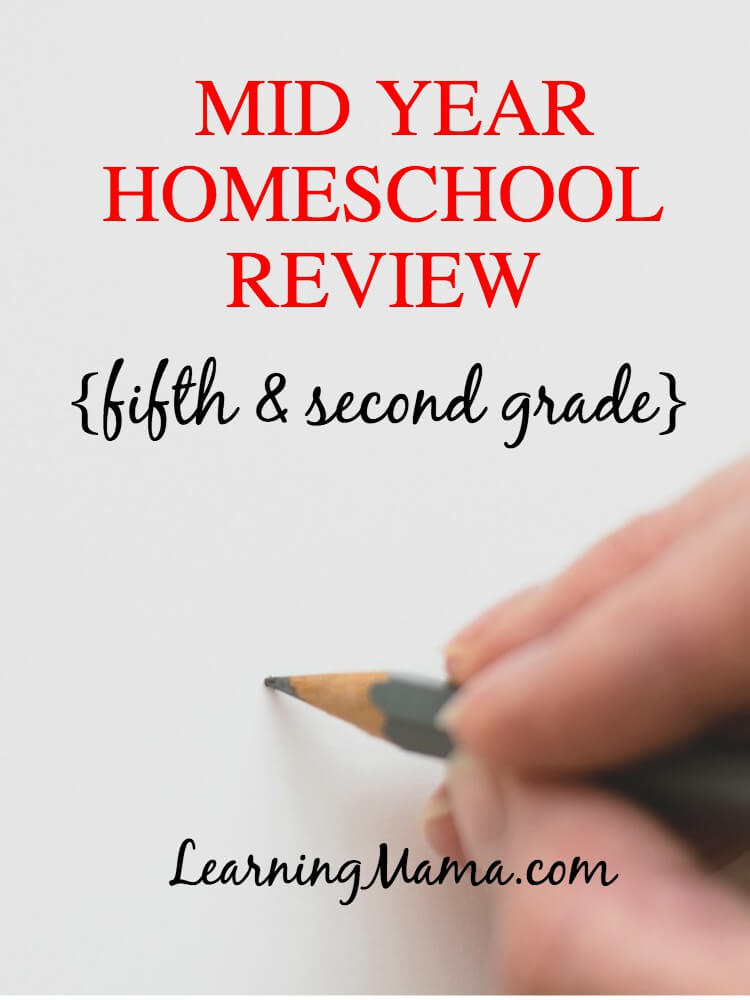 This post contains affiliate links. See my disclosure policy for details.
What's Working for Us This Year
XtraMath: My 10-year-old finally has a somewhat decent recall on her multiplication facts, and I'm crediting this to her daily practice with XtraMath. Is she happy to do it? No. Is it working? Yes!
Writing: After completing three levels of Writing with Ease, my 10-year-old has transitioned wonderfully to IEW's Student Writing Intensive A. Her writing has improved, and she's even been writing a bit, just for fun!
Morning Time: We are really loving our current Morning Time practice: Thankfulness Journal, hymn singing, devotional reading (currently The Ology), Latin, Mad Libs, and Picture Study (first term) &Music Appreciation with SQUILT (second term).
AAR Readers: I'm so glad that I decided to supplement our phonics program with All About Reading readers! My reluctant reader appreciates the break from lessons, and the reading is so much more interesting than the practice provided by our primer. Reading is still a struggle, but we are making steady but slow progress.
Art: My 10-year-old is LOVING her mixed media video art lessons with Alisha of Masterpiece Society. I'm having fun doing them along with her too!
Life Skills: My kids are getting more and more proficient at household tasks, and it's great! It has been definitely worth the time and effort teaching and training them to cook & clean! My 10-year-old's latest adventure is using the Instant Pot to make us lunch!
What's Not Working for Us This Year
Writing: I was planning on using Writing with Ease Level 1 with my 7-year-old this year, but quickly discovered that there wasn't much point– she couldn't even read the sentences she was supposed to copy. So I put that on hold and added in narrating from Aesop's for Children for oral composition skills. Her reading is slowly improving, and she may be ready to start WWE soon!
Our gymnastics classes: I'm really sad to be dropping gymnastics this term because my girls love it! The problem is that our current lessons just weren't meeting my oldest's needs. It seems it is getting harder and harder to find homeschool activities/classes for kids her age. She was getting bored with the skill level in her class which had kids as young as 6. It's too bad because my 7-year-old and 3-year-old loved their gymnastics class!
Our Science Curriculum: I'm willing to admit that maybe we just hate science curriculum. We've tried so many! I often catch my kids saying they hate science, but then find them less than an hour later pouring through an animal encyclopedia or correcting me about just exactly what a coral reef is. I think we're going to have to buy something with an experiment kit or subscription based going forward.
What's working well in your homeschool so far this year? What hasn't panned out quite the way you planned?
Read more about why you should do a Mid-Year Homeschool Review, and what worked and what didn't in our homeschool last year: