Homeschool summer school? Why would you want to do that?
The sun is shining, the birds are singing, and homeschoolers everywhere (and their mamas!) have more than earned a time of rest and relaxation!
But before you slap all those books shut for an extended time and leave the kids to their own devices, remember what is likely to happen in a few short weeks, or even days.
Your kids are probably going to get bored, whiny, and start fighting with one another.
They're probably going to end up spending more time than you like zoning out in front of screens.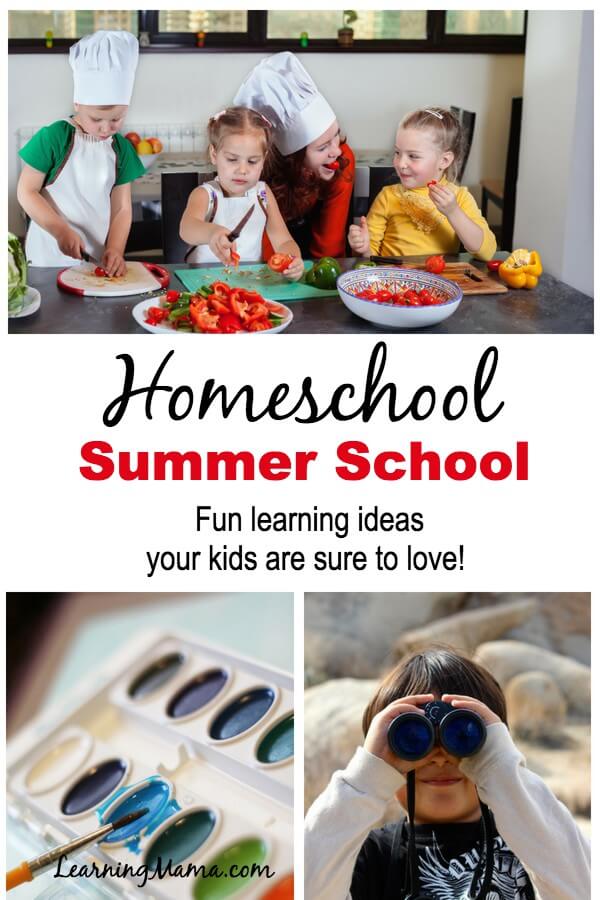 This post contains affiliate links. See my disclosure policy for details.
When you and your kids have had just about as much free time as you can handle, check out these homeschool summer school ideas. Spread them out for a short, daily summer school schedule or plan for a full week of learning fun!
Quick & Easy Ideas for Homeschool Summer School:
Hold a Summer Art Camp
Do your kids love art? If they do, then they will be super excited if you set up a summer art camp for them! Whether you run your personal art "camp" all summer long, or for a solid week, your kids will have so much fun and have the opportunity to develop their creativity and express themselves. For an added bonus, invite a couple of neighbourhood kids or your children's best friends to join you.
Some ideas for a Summer Art Camp: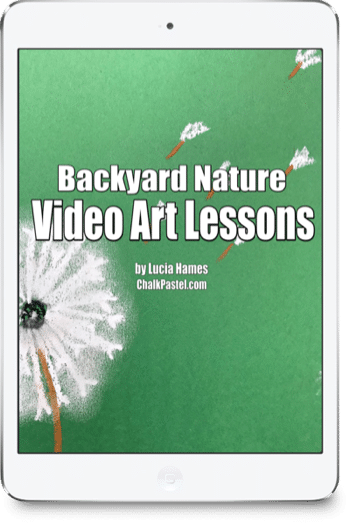 Get Outside for Summer Nature Study Exploration
Summer is a great time to get outside and study nature. Get everyone their own nature notebook, grab a field guide, and explore the trails, woods, and conservation areas in your area. Plan daily hikes for a week straight, or add a once-weekly nature outing to your routine all summer long.
Great Nature Study Resources:
Get Your Kids into the Kitchen with Summer Cooking School
With the regular school-year routine and activities mostly paused for a few months, summer can be an excellent time to focus on learning household skills and building good habits. Spending time focusing on healthy eating & preparing nutritious food is so important!
Teach your kids to cook this summer — and reap the benefits of having kids who are independent in the kitchen all year long! You can design your own course based on your priorities, or take the easy way and use the Kids Cook Real Food e-Course. Use their lesson plans, video lessons, and printables to take your cooking lessons to the next level!
Get Hands-on with Summer Science School
This is especially a good idea if you're like me and skipped too many science experiments during the year. Grab some experiment books from the library, go shopping for supplies, and have a summer of experimentation and discovery!


Have a Summer of Truth, Goodness, & Beauty
If you are new to Morning Time, add it to your daily routine during the summer break and get your feet wet. It will add just a little bit of structure to your relaxed summer days. Before your kids run off to play or to their other daily activities, why not sit down together and enjoy a time of reading aloud, poetry, art, or music?
Awesome Morning Time resources to get you started:
Year-round homeschooling doesn't have to mean 12 months of work and drudgery. Having a summer break doesn't have to end in whining, fighting kids who turn their brains to mush in front of a screen all day. You can have a fun, relaxing summer AND learn by planning your own homeschool summer school.
More Summer Learning Ideas: