Tomorrow marks exactly 2 years since I hit publish on my very first blog post! I have learned a lot in the last two years, both about homeschooling AND blogging, and I'm so happy to be able to share this incredible ride with you! That so many people have been reading my ramblings, and even joined in the conversation is quite humbling to be honest. Thank you!
Today I'm sharing with you the most popular posts on Learning Mama from 2016. If you missed any of them, be sure to check them out because the traffic they have generated over the last 12 months seems to indicate that they're pretty awesome!
Top 10 Posts of 2016
#1 Story of the World Volume 3 Notebooking Pages
#2 Why I Shouldn't Homeschool My Kids

#3 How We Homeschool Morning Time
#4 6 Reasons You Should Be Keeping a Commonplace Book

#5 Homeschooling without a Schoolroom

#6 How We Homeschool Using the Library

#8 How We Homeschool with a Toddler Underfoot
#9 How to Use the Library Without Paying a Fortune in Fines
#10 Homeschool Art without a Curriculum
Thank you so much for joining me on my little corner of the web! I hope to continue to be an encouragement to all of you sweet mamas who have chosen this crazy homeschool life as we learn & grow alongside our children!
May God bless you in your service to Him as you raise your children to His glory <3
Read More of My Top Posts: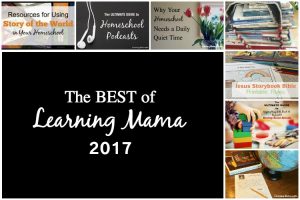 Click on over to see the most popular posts from 2016 from the other bloggers of the iHomeschool Network: