If you're looking for a fun & comprehensive typing course for your homeschool that works, be sure to check out Typesy.
"F (space), f( space), f f f (space). J (space), j (space), j j j (space)" rings Mr. Collins', monotone voice.  I can't remember anything quite so boring as my 10th-grade typing class. Even Canadian History was thrilling compared to that.
While at the time I was convinced that typing class was a waste of time,  I can't honestly think of any other skill I learned in high school that's had such an important and daily impact on my life. Thanks to that class, I'm a reasonably competent typer to this day. No hunting and pecking or looking at the keys for me!
Typing is a Skill with Lifelong Benefits
Last year it became obvious that it was time for my then 5th grader to learn to type. She was expressing a lot of frustration and resistance to her writing lessons. Re-copying her edited compositions by hand was making her HATE her writing lessons. Not to mention that she would often make some kind of mistake in her re-copying and would have to re-write her final draft AGAIN.
So we tried out a few free, online typing lessons. While typing up her assignments unequivocally changed her attitude about writing, she still wasn't a good typist.
Even after completing ALL the lessons in two separate programs, she was still very slow and couldn't type without looking at the keys. She still had far to go.
We needed something more comprehensive, complete, effective.
We found exactly that in Typesy Homeschool Edition.
 I was provided with access to Typesy in exchange for an honest review and I was compensated for my time. All opinions are my own and I was not required to write a positive review. See my disclosure policy for details
What is Typesy?
Typesy is a fun, comprehensive, online typing curriculum. It uses the science of muscle memory and repetition to build typing skills. It includes video lessons, practice exercises, and games. The lessons are short, enjoyable, and nothing like Mr. Collins' 10th-grade typing class!
How to Use Typesy in Your Homeschool
Typesy is easy to set up, and your kids (or yourself!) can be set up and start learning in minutes. You simply add your kids using "Add a User", then you go to "Manage Classes" and create a class. Then all you have to do is "Enroll Students" and add your kids to your class and they can get started!
You can use all the presets in your admin dashboard, or you can choose each setting and allow/disallow such things as avatars, choice of font, games, and skipping ahead in the lessons. The admin dashboard also allows you to monitor your students' progress, set goals and minimum typing speed and accuracy.
You can choose between the Classic or Interactive (includes games) Curriculum, create tests, generate reports, and more.
How We're Using Typesy's Typing Program for Homeschoolers
I chose to set up the lessons with the Interactive Curriculum for my 11-year-old and myself, which includes the games. Even with the games, the lessons are short and she isn't spending a whole lot of time on it.
While my daughter is completing the lessons in order, I've enabled the skipping lessons function and am using the higher level lessons myself to practice my own typing skills. It's fun, even as an adult, so no fear that Typesy will be too "babyish" for your older students!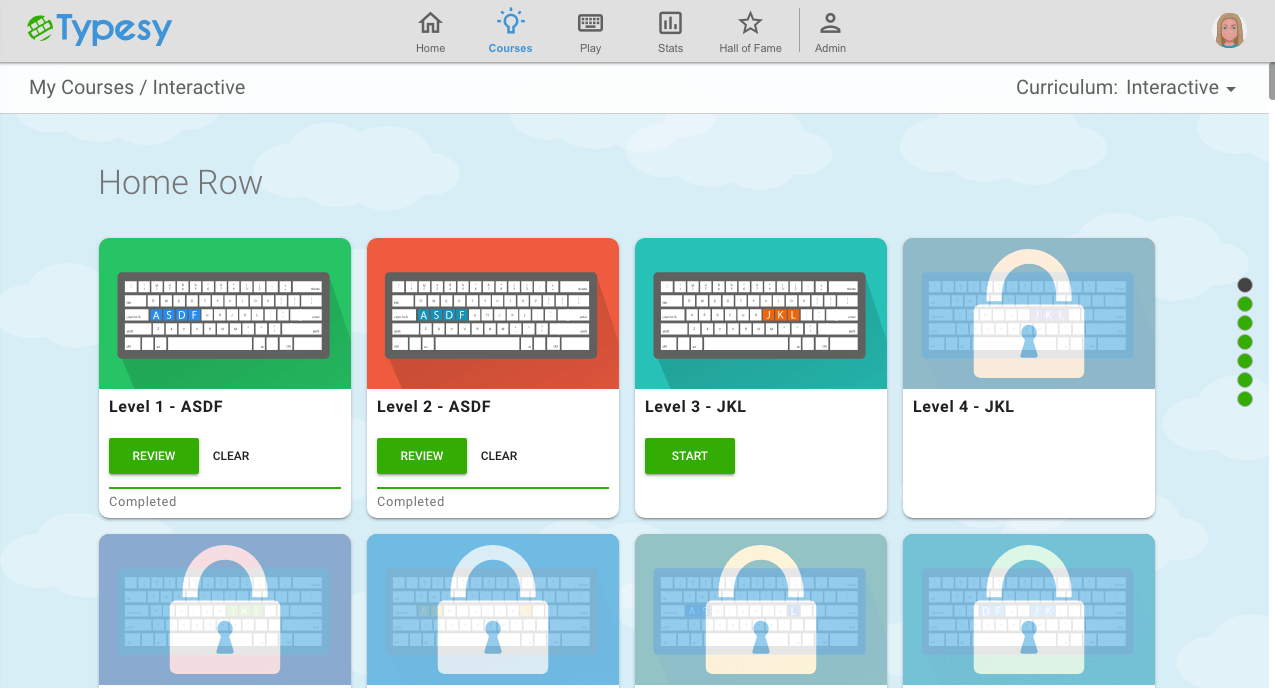 She's doing typing lessons 4-5 times per week during her independent schoolwork time. She also uses the computer for her supplemental math and does some online Latin practice during this time. I find that using screens and interactive programs with moderation is very effective for learning at her age.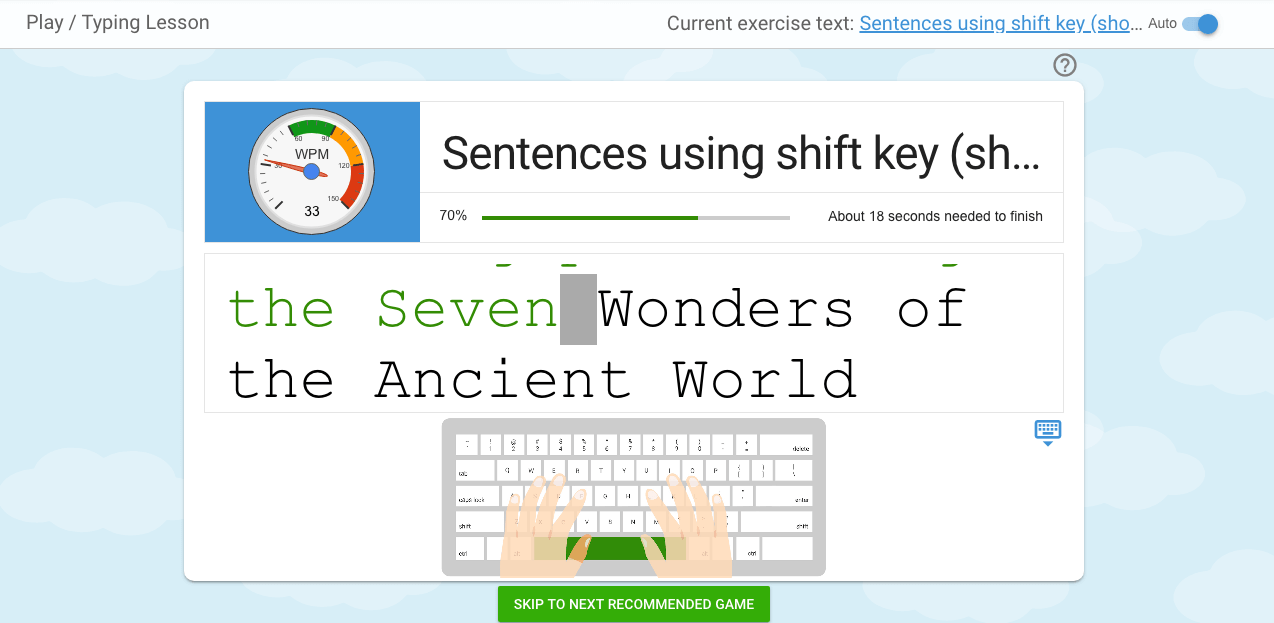 Since getting started with typing in our homeschool, my daughter's attitude toward writing has changed dramatically. It turns that out a good portion of her resistance to writing was due to the editing and rewriting process — no longer an issue since we've started using a word processor and she's been typing her assignments. Win!
Why Chose Typesy When There Are Free Typing Options Available?
I admit I was skeptical at first. There are several free typing programs out there, so what's the advantage of using this paid program?
Well, as in most things in life: you get what you pay for. After having used two such programs, this is why I think it's worth it to pay for Typesy:
Typesy is comprehensive
While my daughter did enjoy the free typing options we tried, they just didn't provide enough practice for her to become a competent typist. With 377 lessons, Typesy gives so much more opportunity for mastery.
Typesy saves your progress
Typesy uses the cloud and is accessible from home or wherever you may be (assuming you have web access). Some of the free options do not.
No ads
Adds are always a concern. At the very least, they can be distracting to your kids —  and at the worst, well, we've all seen some questionable adds. I'm glad to not be worried about my kids while they complete their lessons!
Fun games
These games are fun for all ages and are not too silly or babyish.
Video lessons
There are over 50 video lessons with a real person to learn correct typing technique.
Tech support
Typesy offers several ways to get help including chat and email. I've used both and gotten help and answers to my questions in a timely manner.
Admin account for parent/teacher
We homeschoolers are usually pretty big on parental choice and Typesy puts you in control. You're the teacher of the class and can set goals, pass levels, set up tests, and more.
It's affordable
Access to Typesy Homeschool Edition covers 5 YEARS and there are three levels to suit your family size:
Typesy Homeschool Family includes 4 student accounts and works out to about $13/year.
 Typesy Homeschool Big Family includes 10 student accounts and works out to about $19/year.
Typesy Homeschool Co-op is a great option for groups with up to 10 families and a total of 30 students. That works out to around $20 per family for 5 years or less than $4/year!
365-day money-back guarantee
For your peace of mind, Typesy guarantees your satisfaction. And for 365 days — how awesome is that?!
Typing is an important skill for our children to learn. It doesn't have to be boring or take be a huge investment of time to be effective. The difference learning to type has already made in our homeschool is incredible, and I know that this skill will continue to be important in the high school years and beyond.
Head on over to Typesy and see how your kids can get started or improve their typing skills today.
Enter to Win 1 of 10 Typesy Homeschool Edition Subscriptions
The folks over at Typesy are offering you the chance to win a Homeschool Edition Subscription (Small or Large Family) for your homeschool. Giveaway is open worldwide, enter below!