Book Review: I'd Rather Be Reading by Anne Bogel.
I don't usually read the dedication page of books. But for some reason, I read this one, and it brought a smile to my face. I thought my bookworm daughter would appreciate it too, but what she said when I showed it to her made me feel like I'd failed her somehow.
The inscription of Anne Bogel's new book, I'd Rather Be Reading, reads:
For everyone who's ever finished a book under the covers with a flashlight when they were supposed to be sleeping"
She dedicated her book to me, I thought. How sweet!
Being Understood as a Bookworm
If you've ever felt a little different than most in your love of reading and books, then I'd Rather Be Reading will make you feel understood.  Anne Bogel truly understands the mind and life of the bibliophile — she expresses so many thoughts, problems and insights that are unique to the life of the bookworm. As another Anne with an "e" once said, "kindred spirits are not so scarce as I used to think".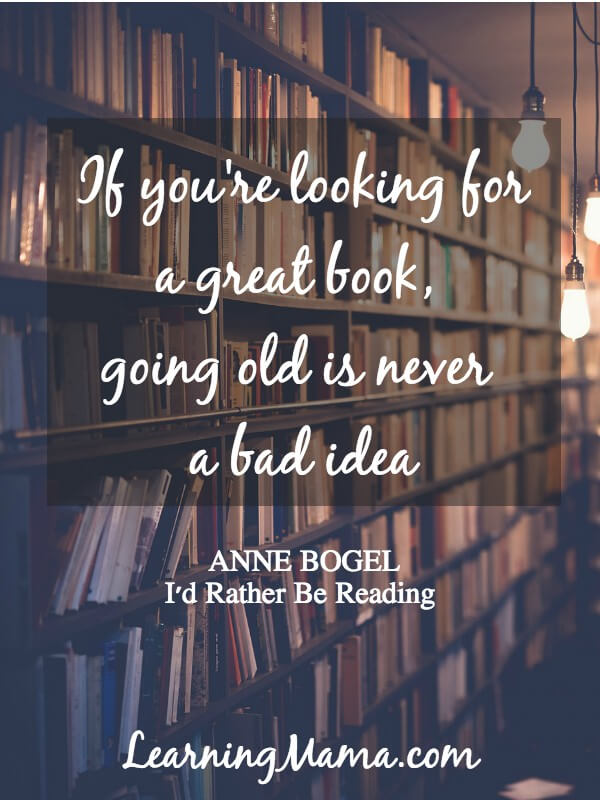 I was provided with a copy of this book by the publisher for review purposes.  I was not required to write a positive review. This post contains affiliate links. Please see my disclosure policy for details.
If you're not already familiar with Anne Bogel, she's the lifestyle blogger and literary matchmaker behind the popular blog, Modern Mrs. Darcy and podcast, What Should I Read Next. She's also the author of Reading People, a fascinating book about knowing yourself using insights from various popular personality frameworks.
From the dedication page, all the way through to the end, I identified with just about everything in this book. In so many places I felt that she was actually talking to me! Except where she describes a period of her life when she lived next door to the library which may have provoked more than a little envy in my own book-loving heart.
Related: The Best Non-Book Gifts for the Bibliophile on Your List
I'd Rather Be Reading is a collection of essays on Anne's life as a reader — she shares how her love of reading developed starting in childhood, how her reading life matured as she did, and how it has influenced her life. With chapters on bookworm problems, literary sins, coming of age, and the joy of finding your very own book twin, it covers just about every aspect of the bookworm experience with honesty and a bit of humour.
If you've ever brought a book with you to a social engagement, lacked space in your suitcase because of the books you've packed, keep a book in your car "just in case", or stayed up way too late reading with a flashlight — this book is for you.
Raising Kids Who'd Rather Be Reading
As a dedicated bibliophile myself, raising readers is a pretty big priority for me. And I'm willing to admit that in my enthusiasm to encourage reading I may have gone a little too far. I'm sure the bedtime police will probably agree.
What my bookworm daughter revealed to me after I showed her the dedication in I'd Rather Be Reading shocked me. She shrugged her shoulders and told me that she's never read in bed with a flashlight. How was this even possible?!
This girl has read in the bathroom, upside down,  and on the backyard swing — but she hasn't hidden under the covers with a flashlight?!
She smirked at my shocked expression and said, "My mom doesn't care how late I stay up reading. I use the lamp".
When it comes to raising kids who'd rather be reading, maybe I'm doing alright after all. But just for tonight, I think I'll tell her its lights out by 9 o'clock and hand her a flashlight.
More Posts for Booklovers: