From the time my daughter started her first Masterpiece Society workshop last year, it was love at first sight. She loved the variety of media and techniques she was learning, the video format with Alisha teaching, and especially how well her art projects turned out.
Ever since she has been constantly asking to do art and is so proud of her work! She decorates her bedroom with her finished projects, gives them as gifts, and has even submitted them to her favourite magazine in hopes of having them published.
Since we were already sold on the quality and value of Alisha's courses, we were so excited to try out her new art membership site!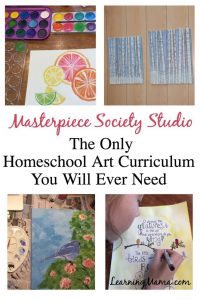 This post contains affiliate links. I was provided with access to an annual membership for review purposes, but I was already using and loving these courses. See my disclosure policy for details.
Masterpiece Society Studio: The All-in-One Homeschool Art Solution
The Masterpiece Society Studio membership site offers literally hundreds of art lessons for kids preschool-aged through teens in just about every art medium — acrylic & watercolour paint, chalk & oil pastels, sculpting, charcoal, ink, collage & more. Drawing, hand lettering, painting — this membership includes EVERYTHING.
What's Included in Masterpiece Society Studio's Membership?
The number of courses available from Masterpiece Society has more than doubled since I originally wrote this post. I've tried to update it with all their new offerings but I may have missed some and more are always being added so I encourage you to hop on over to their site to get the full details!
All Masterpiece Society Mixed-Media Workshops for kids:
For Older Kids (8 through teens):
Mixing with the Masters Volumes 1 & 2 (ages 10+)
Seasonal Art Courses (currently a total of 8 workshops ranging in value from $25-$97 each)
Playful Pets
LiterARTure Series(currently 10 lessons to choose from featuring literary favourites including Anne of Green Gables, Charlotte's Web, and Pride & Prejudice)
For Younger Kids (K-2)
Backyard Nature
Dinosaurs
Space Explorers
Under the Sea
Masterpiece Society Art School (Middle & High School):
Drawing 101
Watercolours 101
Acrylics (& Oils) 101
Pastels 101
A $387 value!
Hand Lettering Course (Adults & teens)
Learn lettering strokes, various lettering styles, blending techniques, how to create layouts, and how to add flourishes and florals to your pieces. A $65 value.
Nature Journalling Series (for Middle & High School)
Learn about various species and the ecology that influences them by observing and sketching in the field as well as how to record those observations in a nature journal. Over 70 video lessons and a $230 value!
Step-by-Step Drawing (K-2)
There are 50 (and counting) directed drawing lessons for younger learners. These tutorials are short and sweet, perfect for the short attention spans and growing skills of your youngest artists. This is a Masterpiece Society Studio exclusive and not available for purchase separately. 
Holiday Art Lessons
These are monthly, holiday-themed art lessons. This is a Masterpiece Society Studio exclusive and not available for purchase separately. 
Colouring Pages for Preschoolers
All the templates for the Masterpiece Society art courses are in one spot, downloadable and printable for your preschoolers to colour or paint alongside your older children.
Handmade from the Heart
A selection of handicrafts —  sewing, embroidery, crochet, wreaths and garlands—for kids and teens to create & give as gifts or simply make for themselves.
Create & Connect for Moms and Virtual Paint-Party Nights
Alecia does regular paint-party nights and art lessons for moms because art is for mamas too! This is a Masterpiece Society Studio exclusive and not available for purchase separately. 

Is a Masterpiece Society Membership Right for You?
The Masterpiece Society Studio annual membership is a great choice for homeschool families who are looking for a variety of art courses with quality art instruction at a reasonable price. The current, introductory price of this membership is $150/year, making it a much more affordable option than private lessons.
We used to take art lessons at our local children's studio which charged $15/child per class for a weekly art class. Those lessons quickly added up to be quite an expense and truthfully, Alisha's courses are a much higher quality anyway.
Masterpiece Society Studio is a much more realistic choice, especially for families with multiple children. From preschool through high school, a Masterpiece Society Studio Membership has all you need for homeschool art classes!
If you've already purchased some of Alisha's Mixed-Media Workshops, don't worry, you won't lose access! And you can still purchase new courses as they become available if that's what you'd prefer. But if you want access to ALL THE. ART. including the exclusives, you're going to want to be a member.
Not sure if Masterpiece Society is Right for You? Try a FREE Art Lesson!
  
You can read more about our adventures with Masterpiece Society Courses in these posts: