Are you looking for a way to add some creative fun for your children this summer? Something fun to do with them when it's too hot to go outside? The perfect way to spend a raining summer day? Why not spend your summer experimenting and creating with mixed media art?
I recently shared with you about our first foray into mixed media art with the help of Alisha Gratehouse Design's Playful Pet Portraits, and we are still loving it! We've gained experience using and combining watercolours, decoupage, acrylic paint and more!
Summer Themed Mixed Media Art Projects For Kids
My daughter was beyond excited to see that we're all signed up for another of Alisha's courses, this time with a summer theme. She loves the video format, the templates that ensure that your project turns out, and choosing which project she wants to work on from the gallery of finished art each week. I love that we usually already have most of the required supplies and that with one purchase you get LIFETIME ACCESS so we don't feel any pressure to get through the projects before a subscription is up.  I will be able to use the workshop again with my younger kiddos who aren't quite ready for all the skills involved. I also really enjoy working alongside her creating my own project — this workshop is great for older kids through teens and even adults!
This post contains affiliate links. While I received access to this course for free, I'm sharing about it here because I think it's a great product. As always, all opinions are my own. Please see my disclosure policy for details.
The Celebrate Summer: Mixed Media Workshop is a work-at-your-own-pace video e-course for ages 8 and up. Detailed supply lists, any required templates, and video instructions are provided for the 20 lessons.  Don't think you will get through 20 projects this summer? No problem! The best part is, you get LIFETIME ACCESS, so you can truly work on your own schedule without rushing. Go ahead and save some projects for next summer!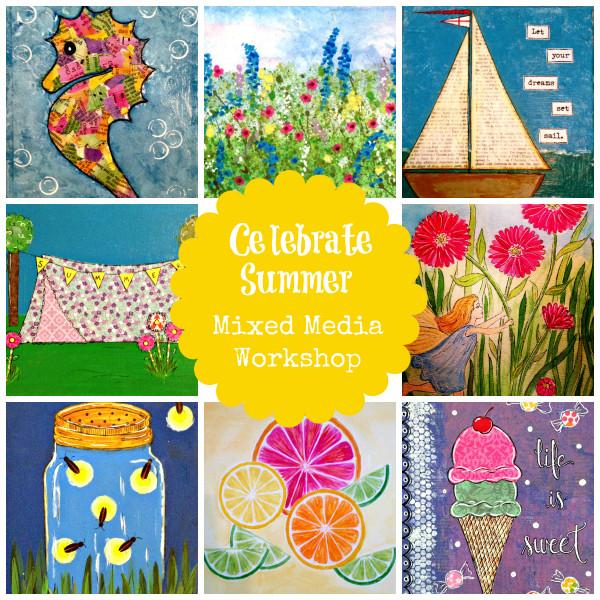 In the Celebrate Summer workshop, you and your students can explore working with sketching, acrylic & watercolour painting, chalkboard art, hand lettering, collage art, sculpting, art journaling, and more!
We've just signed up, and my daughter was super excited to try the Citrus Fruit Watercolour project. She's got big plans to use it on a poster for her lemonade stand this weekend — hopefully, her clever marketing will boost her sales!
Read more about our experiences with Masterpiece Society Courses: