Do you use Story of the World in your homeschool?
We are now in our third year of using Story of the World, and we LOVE it! It is so well written, engaging, and has been a great education for both my children and myself! Our history lessons have always included discussion and narration of the material, and my daughter now enjoys looking over her history notebook and reviewing all that she has learned.
For the first two years, I wrote her narrations down for her and then had her illustrate them. She used to be quite resistant to writing and looking back, I'm so glad now that I didn't require her to write much.
Being her scribe allowed her to love history for history sake while still being able to keep a record of her learning so that she could look back on all she had learned. She truly loves history, and is so much more knowledgeable than I ever was (and maybe even am)!
But as she is increasing in skill and maturity, I have been gently urging her on to more independence in her work — and she has recently taken over writing her own narrations, without a word of complaint! She's quite pleased with these narration pages I created for her and thinks they are a great improvement on the plain lined paper we were using previously.

Printable Story of the World Volume 3 Notebooking Pages
Today I'm excited to be sharing my printable notebooking pages for Story of the World Volume 3 with my readers! I hope they will be a blessing to you and that your children will enjoy using them.
Each Notebooking Page Features:
the chapter title
the section headline
a co-ordinating illustration (painting/sketch/photograph)
a lined area for your student (or you!) to write a short narration
a blank box for him to draw his own illustration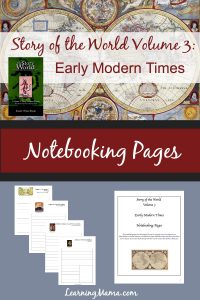 Story of the World Volume 3: Early Modern Times Notebooking Pages are now available in my Subscriber Only Library — free as a thank you to my newsletter subscribers.  Enter your email address into the box below to receive access!
Looking for More Story of the World Resources?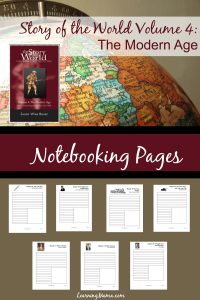 More History and Printable Resources From the Bloggers of iHomeschool Network: