In case any of you were wondering why I didn't post my 2018-2019 curriculum line-up last spring like I usually do, it's because until recently I had no idea what we would be doing this year!
Well, not really. But I have had a dandy of a time making curriculum choices for our relaxed classical homeschool this year. After going back to the drawing board, researching, asking a million questions and re-evaluating everything, I think I've finally got it all figured out. Better late than never, right?
Some of our selections will switch sometime mid-year, and others will start fresh in September. That's because we've always followed a relaxed classical homeschooling style, choosing to homeschool year round and just start a new program or level once the previous has been completed according to my own Do the Next Thing planning strategy.
Here are our 2018-2019 relaxed classical homeschool curriculum picks for 6th grade, 3rd grade, and pre K.  Some of these are old favourites that we have used for years, and others are brand new to us. Our book orders are all in, and we're excited to dig in!
This post contains affiliate links. See my disclosure page for details.
Relaxed Classical Curriculum Picks for 6th Grade
Language Arts
Writing – IEW's Writing Intensive A Continuation Course
Last year was our first year with IEW and it was great! Lessons were open & go, my daughter enjoyed the video lesson format with Andrew Pudewa (he's a pretty funny guy!), and both she and I learned so much about writing outlines and organizing ideas. I loved the checklists for compositions too – they made marking a breeze! It's entirely possible that she didn't enjoy the program as much as I did, but it's working beautifully so we're going to keep going for this year.
We took a break from grammar last year after having finished First Language Lessons 1-4  because this new program wasn't yet available when I was doing my homeschool planning. We loved Well Trained Mind Press's elementary Grammar program and are looking forward to getting started on this one.
Math
Math-U-See is still our choice for math. We had to mix it up a bit last year by starting Delta before finishing Gamma, then jumping back to Gamma before finally finishing Delta because we got stuck on some of the more complicated problems at the end of the books. We also supplemented with CTCMath and did drills with Xtramath.
Critical Thinking/Informal Logic
I'm pretty certain this one is going to be popular with my daughter, I've already caught her flipping through it and chuckling to herself over the comics strips that accompany each chapter. I'm planning on working through it myself and then meeting with her weekly to discuss.
Foreign Language
Latin – Latin for Children Primer A
This is another area I will consider myself a co-learner with my daughter this year. I had the materials ready to go last year but then chickened out — maybe this year we can make a go of it? The program is rated for third grade and up, so we may even get my third grader in on it.
She's already done the Elementary French programs with Middlebury and she LOVED them. I'm hoping the higher level courses will suit her as well.
Relaxed Classical Curriculum Picks for 3rd Grade
Language Arts
I'm trying to remain positive about the slow progression in the learning-to-read process that we have encountered with this girl! Her older sister was fluent and independent in reading in first grade, but this girl still gets all of her reading in through read-alouds & audiobooks. We are plugging away through The Ordinary Parent's Guide to Teaching Reading, using the AAR Readers for practice, and are adding a Reading Eggs subscription to the mix for fun.
We're about 3/4 of the way through FLL 2 and will start the next level as soon as we've finished. I love this program – so easy to teach, simple, and enjoyable. We have loved using the Audio Companion CD for the memory songs.
Because she's a late bloomer in the reading and writing department, we didn't start WWE 1 in first grade but about halfway through second. Copywork is quite burdensome for her, so I'm glad that the selections in this program are short and that it encourages the child to dictate narrations to the parent.
Penmanship – Handwriting Without Tears Cursive Success
My soon to be third-grader was a bit intimidated when I informed her that she was going to be starting to learn cursive this year, but she has since become pretty excited about it. Handwriting continues to be a struggle for this girl, and I have yet to be able to convince her to change her pencils grasp. I'm hoping that cursive will be easier for her to master.
Spelling –  All About Spelling Level 2
We worked through Level 1 last year and she enjoyed it. Her older sister has done 5 levels and I've found it to be a very effective, easy to use, and adaptable curriculum.
Math
Math-U-See has been working beautifully with this girl and she enjoys telling everyone that she's "good at math"! I'll add XtraMath when necessary to help with math fact recall and speed, and use CTCMath as a supplement when necessary.
Relaxed Classical Curriculum for Pre-K / Jr. Kindergarten
I'm going to preface this by saying that I'm not a fan of preschool and kindergarten, whether that's homeschool, private school, or public school. When I'm asked what I recommend for homeschooling preschool, I usually say something like "Play-d'oh, puzzles, finger paint, and a library card".
So I admit that I'm quite surprised to find homeschool curriculum on the list for my 4-year-old this year. I assure you (and myself!) that this is all her.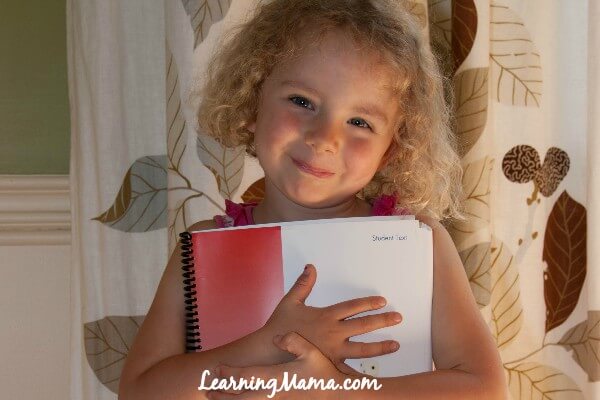 She already knows all her letter sounds (who taught her that?!) and has begun recognizing numbers up to 99 after briefly questioning me about the house numbers she passed while riding her bike. She's always asking for help to write words, and we find her struggling to sound out words in her books all by herself. She's begging for reading and math lessons!
So here's what we'll be using on those days that she ASKS to "do school":
Morning Time & Group Learning
Morning Time Plans
Science
We're trying something new (again!) for science this year. Since my kids haven't been crazy about many of the other programs we've tried but LOVE read alouds and books, I thought I would try Sabbath Mood Homeschool's Living Science Study Guides. We are going to try out the Astronomy Study Guide: Form 2 (grades 4-6) and if it works out, we'll move on to Weather & Geology next. That's not the order Sabbath mood has them scheduled, but we try to do our science studies in the four-year rotation of Biology, Astronomy & Earth Science, Chemistry, and Physics.
History
We are currently about halfway through Story of the World Volume 4. We use my Story of the World Volume 4 Notebooking Pages, watch supplemental YouTube videos, and my oldest keeps a timeline. When we are done with Volume 4 we will start again with Volume 1.
Nature Study
We are very laid back (and often negligent!) in our Nature Study practice, but we do keep nature notebooks when we discover something interesting.

Art
We will be continuing with the courses from Masterpiece Society Studio. Mixed-media art, watercolours, acrylics, drawing, and more — Masterpiece Society covers it all!
So that's what we have lined up for the coming academic year! You can check out our relaxed classical homeschool curriculum choices from previous years: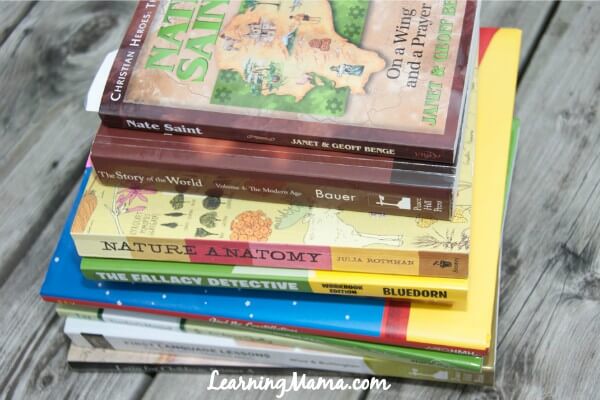 Read all about the Curriculum Choices of the other bloggers of the iHomeschool Network at the Back to Homeschool Blog Hop Curriculum Week.